Building a food delivery app is a promising startup idea. But how can you gain a competitive advantage among other similar services? In this guide, we provide valuable insights into mobile app marketing for food delivery. Which platform you choose to build a food delivery application does not matter. These tips can be used to market both Android and iOS apps. Let's find out the way to boost online order and delivery with bePOS!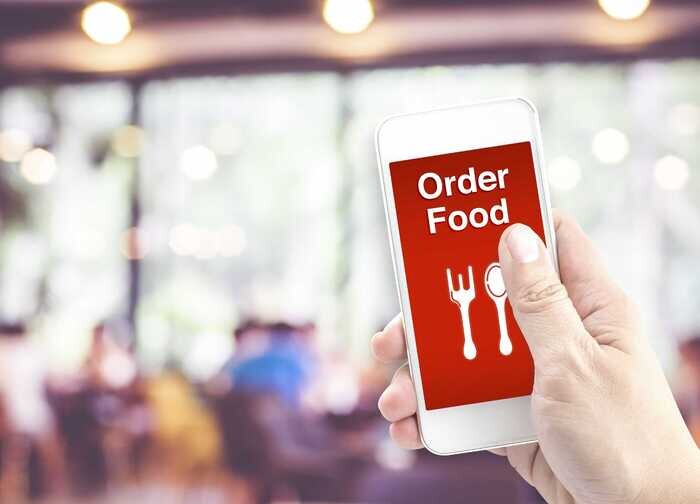 Determine your target audience – To Boost Your Online Order And Delivery
To build a successful mobile app marketing strategy, you must first know exactly who your target audience is. That means you need to understand who your product is for. It's essential.
To find the best way to promote your app, you may need information about your potential customers, including their demographics, locations, interests, and lifestyles. This information will help you create the buyer's personality, which is the image of the target audience you want to reach.
Having an in-depth understanding of your buyer character will help you:
Create your own message
Select a communication channel
Create a content marketing strategy
As you can see, it's important to create and research buyers' personality thoroughly before deciding which app marketing strategy to choose for your food delivery service. But today, it's important to find a niche for your product to compete with large food delivery players. Gesoo, for example, only delivers from Asian restaurants and targets the Asian population in the US.
Lots of startups deliver food to customers who are too busy to cook. But to narrow things down, you can target a specific segment, such as those who like healthy food or food from high-end restaurants.
Create a unique selling proposition
Once you know your target audience well, you're ready to create a unique selling proposition (USP). A strong USP can differentiate your food delivery app from your competitors.
About 60% of consumers consider delivery speed to be the most important factor when ordering food online. But there are already plenty of food delivery apps that promise quick delivery. That's why you may need to provide other advantages to stand out.
Creating USPs is an important part of all app marketing strategy. When you create your USP, think about the needs and disadvantages of your target audience. With the help of the USP, you will tell potential customers what problems your food delivery application can solve.
Let's look at two of the top food delivery services, Uber Eats and Caviar, while comparing the USP and their target audience. Uber Eats, currently, the fastest-growing food delivery service in the US, is targeted at busy 24 to 35-year-olds, whose delivery speed is a top priority. To meet their needs, Uber Eats delivers local as well as fast food from large chains.
The company emphasizes fast delivery with the slogan "Your favorite restaurant, fast delivery." Meanwhile, Caviar is aimed at customers with a higher average income and want quality food from the restaurant rather than fast food. That's why Caviar's USPs are delivered from upscale restaurants.
Tell potential customers what's unique about your product and how they can profit from it. Your USP should let people know how your food delivery app differs from others. When creating your app marketing strategy, you should always keep your USP in mind.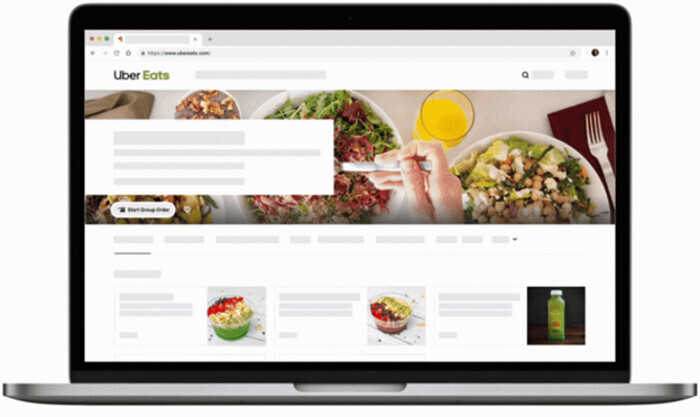 Skip Delivery Service
The first thing you can do to increase your online orders is to offer online ordering right on your own website. By bypassing shipping, you are avoiding commissions of up to 35% per order.
When you place an online ordering system on your website, you keep more money because you don't have to divide a portion of your profits with the delivery service.
Plus, you keep customers on your website where other restaurants won't tempt them. They are completely focused on ordering from you, and they are not distracted by the competition on the delivery site.
Streamline Your Online Menu
Another tip to consider is the overall customer experience of your website. You want to make sure you can easily find your menu online and order from it. Another thing to consider about your online menu is how well some of your dishes will be once delivered. Ask yourself if it's good for them to travel.
However, be careful not to remove any bestsellers from your online menu, or you will disappoint people.
You might also consider putting items together and offering a little discount when ordering online. For example, put a family box together to feed four and a few other boxes for different size groups.
Integrate Your Online Menu
You can also increase your online orders by integrating online menus with your point of sale system. Another way to increase orders online is to create your own restaurant app. By offering customers not only a website dedicated to order but also a dedicated app, you'll see your online sales grow.
Your customers love to use the apps because they're easy to order. Plus, they're instantly visible on the diners' phones, so they're always reminded of you.
This helps you reduce costs by streamlining your ordering system. All orders online and at your restaurant are in one place, making it easier for you to complete all orders.
You'll also find that by integrating your menu online, you can access a wealth of data that will help you better plan your future food order and marketing.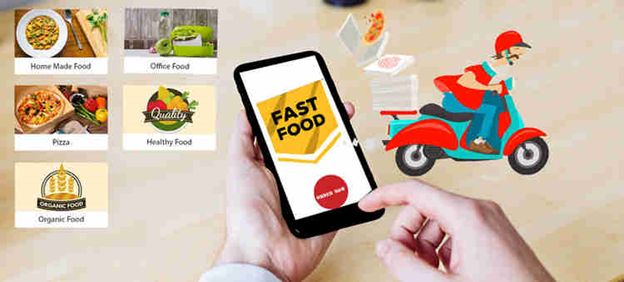 Promote Your Online Ordering
You have a great website and an intuitive ordering system, but you need customers.
This is where your marketing strategy comes in. Here are some tips:
Place signage on your online ordering throughout your restaurant.
Send diners home with a coupon ordered online.
Send marketing emails to your list to promote ordering online.
Use Facebook, Instagram, and Google ads to promote your menu.
Finally, make sure your host tells their desks about ordering online so that it starts to spread verbally.
Use content marketing
It's hard to overestimate the role content plays in mobile app marketing. Many businesses today take advantage of content marketing, and there are several reasons for that. Content marketing can prove effective when it comes to building trust with customers and building brand awareness. It's a relatively cost-effective approach and engagement with your target audience.
Social media
Social media is an effective tool for mobile app marketing. 70% of customers who have a good social media experience with a brand are likely to recommend the brand to others.
Here are some tips on how to use social media to promote your food delivery app:
Choose the right platform. To decide what social platforms and what to post on them, you should know what your target audience likes and what influencers they follow. Instagram and Snapchat can help you reach young online users while reaching an older audience; you may want to choose to advertise your app on Facebook.
Utilize the power of influencers. Consider partnering with influencers who can help you reach your target audience. Eighty-seven percent of buyers trust content shared by an industry influencer.
Keep balance. Posting promotional content is a good idea, but don't forget it's entertaining and engaging. While your posts should be relevant to your app, stay on top of the latest culture and news trends. This will help you build a community.
Adjust your communication with your audience. Social media is all about communication, so keep in mind that you should speak the same language as your target audience. Most of the food delivery companies use a friendly voice and simple language.
Use social media to spread the word about your business. The social media platform is a great place to host a contest or host giveaway. When you ask your audience to share your post, you reach more people because the participant's friends and followers will see the post.
Use social media to promote your mobile app. With your ads' help, you can show your content to specific users who fall within your target audience. For example, Uber Eats drew sweepstakes on Instagram, where people had to comment on a company promotional post and tag a friend's participation.
Do you want to replicate the success of Uber Eats? In this article, you will find core functionality, costs, and pitfalls you can expect when creating an app like Uber Eats.
To participate in the DoorDash sweepstakes, everyone needs to post a photo taken in front of one of the company's murals, tag a DoorDash, and use a hashtag. Awards include a $ 2,000 donation to Feeding America. This type of campaign can potentially go viral because the company doesn't ask participants to post an ad, but instead are their own photos. Moreover, this type of contest has social value, helping the company build trust with customers and enhance its image.
Through Instagram posts and Instagram Stories, you can also boost your ordering. Since Instagram is such a visual platform, this is a great place for your restaurant.
Start sharing beautiful pictures of your food. You can even include a client's photo as long as you get their permission. And don't forget the photos and videos to highlight your staff, menus, and even your chef.
Consider a video with your chef talking about your dishes. Or you can showcase your restaurant on a virtual tour.
The real key is to let your restaurant shine on Instagram. Finally, don't forget to bring people to the link in your profile to order online.
Blog
Blogging is a more effective tool for promoting mobile apps. Businesses with a blog get 55% more website visitors than businesses without a blog. Creating useful and informative blog content not only gets you noticed in search engines but also builds customer trust and gives people reasons to return to your site.
Good blog content helps businesses:
Increasing brand awareness and reputation
Increase traffic
Increase audience engagement
Consider writing guest posts for other websites, as their readers may be in your target audience. Guest blogging can also help build your authority like an industry professional.
To promote your food delivery app, you can post informative and useful articles. For example, Uber Eats posts helpful and entertaining food-related content, including articles about places to eat and food photography tips.
Consider posting something funny if you want to entertain your readers. GrubHub has a blog, and in addition to articles, they entertain readers with quizzes like "Are you a hot dog or a hamburger?" Don't forget to let your readers share their results with friends.
We mentioned posting contest information on social media, but you can also post that information on your blog. Caviar uses their blog to inform customers about contests, such as tickets to culinary events.
Video content
Choose a content type for mobile app marketing.
Compared to other types of content, video content can be expensive to create. But it has several advantages when it comes to building an application marketing strategy, especially when considering today's technology. In short, video marketing helps to advertise your product, entertain, and engage your audience.
Video content can help with mobile app marketing. You may want to consider video content when marketing your food delivery app includes social videos, interviews, stories, tutorials, product videos, testimonials, and explanatory videos. Ninety-eight percent of people have watched an explainer video to learn more about a product or service. This type of video tells potential customers why they should use your product or service and what problems they can solve by using it.
While social media platforms like Instagram and Facebook allow users to post videos, the key video platform is YouTube. According to Google, the top three reasons people turn to Youtube are:
To find a solution, like fixing something in their house.
Be entertained
To learn something new.
When planning a food delivery app video marketing strategy, consider the interests of your target audience. For example, 81% of Millenials want to see how their food is made, while 80% want to see a story behind the scenes.
DoorDash made a behind-the-scenes video about Project DASH, tackling the problems of hunger and food waste. It shows the company's mission while building DoorDash awareness. Such videos help connect with audiences and build trust.
Remember email marketing
Many businesses focus on social media, but email marketing still works. Cost-effective helps you reach a large audience, which can be very important for food delivery startups. That's why email is also used as a tool for mobile app marketing.
Email marketing helps keep customers informed about loyalty programs, discounts, and contests and helps build brand loyalty. What's more, email can also be entertaining. People don't usually respond to promotional emails, but Eat24 has found a way to encourage customers to respond. The company used to send an email to customers who signed up for their loyalty program that contained a discount code and a blue scarf asking if anyone was out there. By sending this email, Eat24 lets customers know that real people have followed their email addresses. As a result, they received some feedback from customers.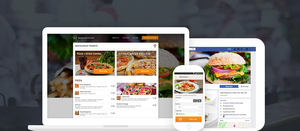 Use incentives to engage customers
You also want to think about adding a digital loyalty program. You'll find plenty of options online – choose the one that best suits your needs and budget.
The digital loyalty program tied to your online ordering is a great way to encourage repeat visits and customer loyalty.
Once you've got this, you want to share this wherever possible: in your restaurant, on your website, on social media, through website marketing and digital advertising. Friend.
Create a loyal brand ambassador, and you'll increase your online orders as well.
Use your Email Marketing
Email is not dead. When you use it to drive online ordering, you drive your sales. (Tweet this)
Email is one of the best ways to communicate with your existing customers. Decide how many times per month you'll email them and stick with it.
Consider adding some specials to your customers to order online if you want to increase your sales.
Online ordering is growing exponentially. What's more, the orders your customers place online are on average 20% larger than the orders they take to carry over the phone.
It's easier to sell more goods to your customers online than to sell them directly because you can use images to help with the process. (Tweet this)
Also, your customers prefer to order online because they're not in a rush, and they can go through the entire menu as many times as they want without the pressure to pre-order.
You will find that by using some of these tactics in your online ordering system, you will increase your online orders in a short amount of time.
bePOS – The Most Powerful POS System For Merchants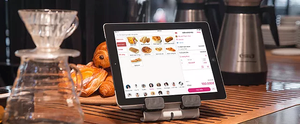 Kitchen Display System: Get quick order status updates & Avoid any lost or forgotten tickets left at the printer.
Staff Management: Easy to manage, track, measure, schedule; Maintain payroll details & Personalize accounts with employee-specific settings.
Cloud-based: Stay synced anytime, anywhere & Enhance customer experience with only one information database.
Menu Management: Add, clone, and organize menu items & Easy to modify to react with customer special order.
Cash management: Account for and manage cash in the till with simple pay-ins and pay-outs
CRM: Record the customer's profiles and buying history & Drive repeat business by rewarding loyal customers.
Inventory Management: Track recipes against menu item; Determine ingredient-level food costs with ease & Auto-updated with in-service alerts.
Instant reporting: Post sales data daily, save time, and reduce errors & Draw insights from comprehensive end-of-day summaries and other detailed reports.
Moreover, bePOS have some special features that no POS System contain:
Track Costs: Track recipes against menu items and determine ingredient-level food costs with ease
Menu Engineer: Track recipes against menu items and determine ingredient-level food costs with ease
Improve Service: Keep staff aware of inventory levels automatically with in-service alerts.
Define Ingredients: Easily create and track ingredients, with costing and unit measure information.
Create Recipes: Associate common ingredients with menu items using tap-to-create recipes
Track Inventory: Easily update all menu items with ingredients in its recipe, especially; with Restaurant Inventory Management features, you can create and manage a limitless number of ingredients with the unit cost and retail price, mark any menu item out of stock, and straightforward inventory reports. Also, you can customize menu items with varied & detailed ingredients and inventory countdown. With purchase and order, you can easily report on inventory levels and suggest re-stock options.
Besides, if your restaurant needs more hardware, bePOS is considered to be the best solution for you, which includes:
iPad & iPad STAND: Apple tablet can operate as the POS terminal. Staff can take it to the table or leave stationary at a counter. Case (or stand) enclosures for your iPad, protect it from breakage, and safely secure a counter to prevent theft.
Cash drawer: This hardware bundle will help you build the perfect wireless experience. The cash drawer can connect through one of our supported printers and serial drawers.
iPhone & iPad: This is a small and portable version of your tablet POS system, which allows your employee to work on the move. The fast and reliable printer has innovative functionalities for POS environments. The small size makes it ideal for customers with limited counter space.
LAN receipt printer.
Using bePOS brings you better communication with display ticket times to keep track of turn around, which helps staff see what's cooking and what's ready to go. It reduces less hardware with display ticket times to keep track of turn around and help staff see what's cooking and what's ready to go.
bePOS helps create an ultimate service with display ticket times to keep track of turnaround, which helps staff see what's cooking and what's ready to go. Get reports tailored to table-service restaurants: revenue centers, item and modifier sales, customer frequency, employee sales. If it hits the bottom line, we've got a report for it.
Try bePOS now, and we promise to give you the best experience ever! The food delivery market is spreading among consumers. Furthermore, it is a potential area for investment. If you want to create your own food delivery website, you have two options. You can use a template for your future website and hire a development team to customize it to your needs. Alternatively, you can hire a team to develop a completely custom solution for ordering and delivering food, which can be expensive but beneficial.