As a salon owner, it quickly feels as if the problems your salon is having are unique. You are so immersed in your daily tasks and issues that you may not realize that your main issues are essentially the same as what your competitors are facing.
In the topic Top 25 Most Updated Salon Booking Apps In 2023, we will give you the solutions to solve every single challenge that salon owners are facing.
7 Challenges Every Salon Owner Has To Face With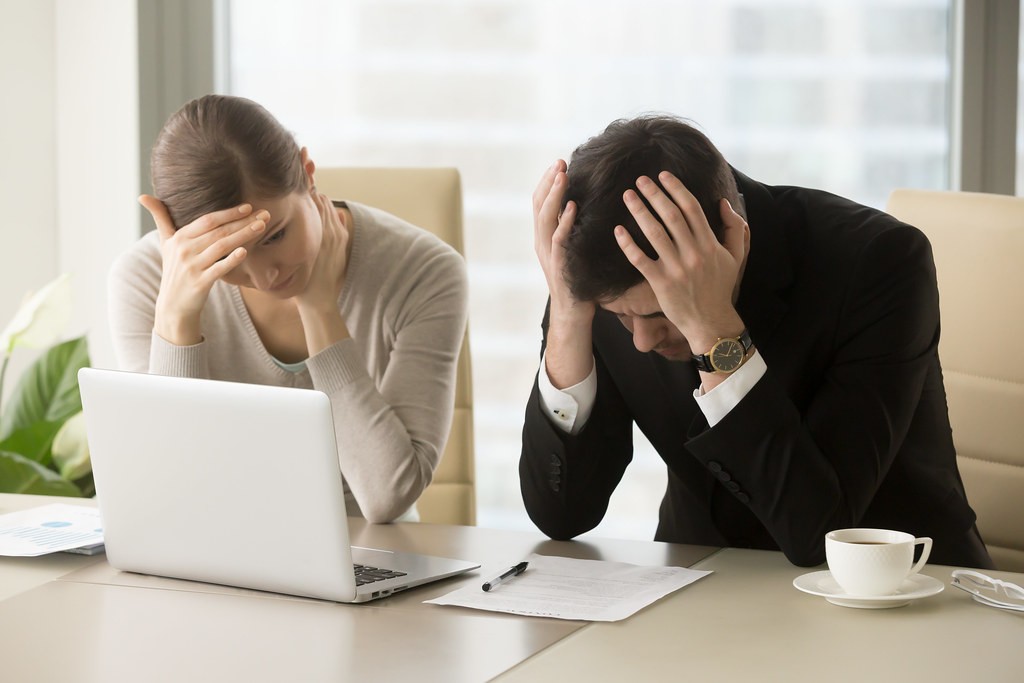 Owning and operating a salon can be a profitable business when you have a sound management system in place. If you are thinking of starting a business, it is a great business option because there are great solutions to many problems that shop owners face. After all, no company is without some degree of risk. How prepared you are to face challenges, and to win is essential.
Over the years, the salon business has thrived. There is a high demand for the services of a stylist or cosmetologist. The transition people go through after visiting a beauty salon makes it a highly sponsored business, and one of the long term investments anyone can make.
Here are the Top 7 Challenges Every Salon Owner Has To Face With.
1. Customer loyalty
It is challenging to acquire and maintain loyal customers when running a salon because it is a highly competitive business. Chances are there is another salon offering similar services. To encourage customer loyalty, you can create an email list to send personalized messages to your customers. Make sure all customers know about your direct channel to contact you when needed and create a social media page and encourage customers to follow your page. Finally, fool your social media site with educational and entertaining content related to your salon business.
Some customers cannot be satisfied, no matter how hard you try. On such days, employees may feel less motivated and willing to quit. Please make sure all of your staff are adequately trained so they can respond quickly and accurately to customer questions. Also, avoid forcing employees to work longer hours; This can make them irritable and impatient with demanding customers.
2. Price distortion
To win more customers, new stores can lower prices, making it nearly impossible to make profits. There is no need to sell services at a loss because of competition. Instead, point out the value you're offering and take the necessary measures to improve the client's experience when they visit your salon.
3. Maintain a stable income
The unpredictable scale of patronage can be shocking. Salon owners record different income figures each month, depending on patrons. Unstable income can make it difficult to have long-term plans. With better money management skills, you can maintain high standards even with occasional income from sales.
4. Staff motivation
Working in a beauty salon is a tough job. The staff is expected to stand for long hours and still do their best. Stress can reduce employee motivation and productivity. Salon owners can spend more money hiring motivation coaches, psychologists, or using incentives to keep employees motivated and happy.
5. Payroll management
Many salon owners try to manage their payroll independently. This is a time-consuming and challenging job. The solution is to hire an accountant for an additional cost or learn how to use payroll management software.
6. Salon maintenance
Many appliances that are used regularly in the Salon must be routinely maintained, or they will malfunction. There is also a need to maintain a sanitary environment in the Salon. The problem is that maintenance costs can be very high, eroding margins.
Maintenance is essential, and cost can be included in the annual budget for the Salon. Additionally, you should establish a good working relationship with a maintenance company to receive lower fees for long-term services.
7. High employee resignation rate
This could be a problem. Some employees quit their jobs after learning how to provide the best service for the salon. The lack of experienced staff can cause longer waiting times and delayed service delivery. Customers with poor experiences may not come back.
Make your employees happy to stay by improving benefit packages and creating a work schedule that allows them to have a better work/life balance.
Why You Should Use Salon Booking Apps
Using a salon booking app brings a lot of benefits to your business. First, it offers inventory management, which sets it apart from traditional cash registers and booking tools. With its help, one can manage an inventory of brush, shampoo, or oil products sold in beauty salons.
Second, the salon booking app involves staff management features. This function is similar to a scheduling tool and helps employees keep track of time. Again, the salon booking software can't offer this feature. Even if some of them did, they weren't the top management.
Finally, managers prefer salon booking software for the reporting system. They can keep track of busy times, hours worked, expenses, or productivity. Therefore, it also makes the job of managers and supervisors easier.
Using the salon booking app is quite popular among business people because they can easily schedule employees' work, they can manage their reservations, inventory, sales, and even more. Salon booking apps come with a function that allows guests to book appointments, meaning you can say goodbye to the stress of managing yourself.
7 Must-have Features in a Salon Booking App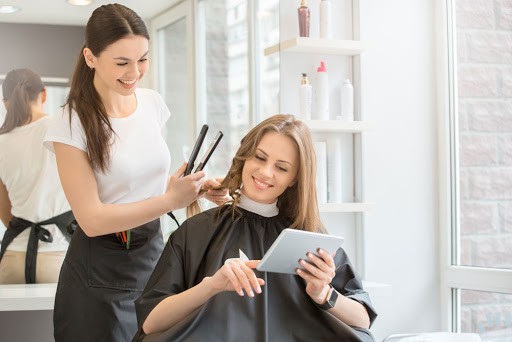 Whether you need a salon booking app for a nail salon or barber salon, there are a few features you need to consider. Current cash registers and booking tools do not offer all of the previously mentioned functionality in one device. Preferring a salon booking app over them doesn't mean you can't enjoy the advantages of the reservation features. Whichever app you choose to choose from must provide you with a comprehensive system. Below are the features that the store's salon booking app offers.
1. Online booking
Research shows that 40% of consumers prefer to schedule appointments during non-work hours. That can lead to service losses worth thousands of dollars per year if you don't offer online appointment scheduling.
With online booking, customers can make an appointment at their convenience. They may even come to the service more often because they can arrange free time appointments. Plus, when online booking integrates with appointment management, you get the added benefit of a real-time calendar and revenue potential view that you can access anytime, anywhere.
2. Appointment management
Are you still using the paper appointment book? The salon's POS system gives you a more efficient way to manage appointments, eliminating the risk of double scheduling and additional steps for re-entering information into employee schedules. The appointment management feature that your stylist can access online ensures your staff will be notified of last-minute additions and are available when the customer arrives.
Modern Salon & Spa POS systems will also allow email and text reminders, so your staff won't have to spend phone time to confirm a reservation. Also, appointment management with the salon's POS system will help you assign hikes evenly to all stylists and minimize waiting times for customers.
3. Customer management
Other types of businesses are only just beginning to understand the importance of customer interaction and personalized service, but that's something the industry has recognized for years. Interaction with customers in a cookie-cutter style is not acceptable in your business. Services must be consistent with specific details such as style, length, colour, cut, and design.
The best salon booking app will allow you to store data about each customer, so you can deliver the best service, experience, and results they want. The advanced salon booking app will also allow you to upload photos so you can easily copy a pattern or memorize customer names.
The relationship you build with your customers is the primary driver of your repeat business. According to data from Bizrate and Forrester Research, simply providing points and rewards for loyalty is not enough to win customer loyalty. You need to find ways to engage customers by engaging their emotions.
The salon booking app in your store should include a loyalty program that allows you to reward loyal customers. However, it will also benefit your business by collecting data that you can use to understand your customers better. For example, if you notice specific customers arriving regularly (weekly, fortnightly, or monthly), you can create a membership program with unique offers on their favourite services.
5. Real-time reporting
With the salon booking app, you never have to be confused about your business or decide without backing up your data. Log in from any device to keep a close eye on your expenses, profits, inventory, or schedule.
The advanced salon booking app will give you the option to pull reports to track key performance metrics (KPIs) that show progress towards specific business goals like stylist sales, cross-selling according to top stylists and customers. Your salon booking app can also be integrated with your accounting software for increased efficiency and accuracy.
6. Inventory management
As a salon owner, you not only need to keep track of the supplies you use to provide services but also inventory items like hairdressing products, makeup, men's grooming products, and accessories for retail sale.
The in-store salon booking app helps you keep everything organized and up to date – in real-time. You can also set a rearrange reminder for when the stock is running low. Also, your inventory management feature can help you identify and eliminate downstream sources to improve the profitability of your operations.
7. Employee management
Whether the stylist is an employee of your business or they rent space from you, your salon booking app needs to be able to keep track of their appointments, create schedules, and give you a shot. A clear picture of the revenue each stylist or chair brings.
Transact in your paper-based system and let your salon management software generate employee reports, manage commissions, and track booth rental fees. Easy employee management can even create a positive work environment that helps you retain top talent. Gallup research shows that 59% of employees are less likely to find a different job when they "stick and grow" in their current role.
8. Credit card processing
Very few businesses in today's health and beauty industries operate successfully on a cash basis – you also need to accept other forms of payment. Customers will appreciate the convenience of using a credit or debit card, especially if they want to add a service or product and don't have enough cash.
Your salon booking app should include integrated payment processing to give your salon or spa easy credit card acceptance. It must be PCI-compliant and EMV-ready to keep customer payment data – and your business – safe from data breaches and card fraud.
9. Customer support
The solution you choose should be supported by excellent customer service, from installation and training to ongoing support.
Your business serves customers by running evenings and weekends – your salon booking app provider should do the same. You may also want to find a provider that can monitor your app and provide remote routine maintenance to help minimize downtime.
You should learn as much as you can about the salon booking app provider's experience in your niche. Work with someone who understands your business, the challenges you face, and the type of apps that best suits your business style. Look for customer testimonials and request references so you can cooperate with salon booking app vendors with wide eyes.
31 Salon Booking Apps Highly Recommended For Salon Owners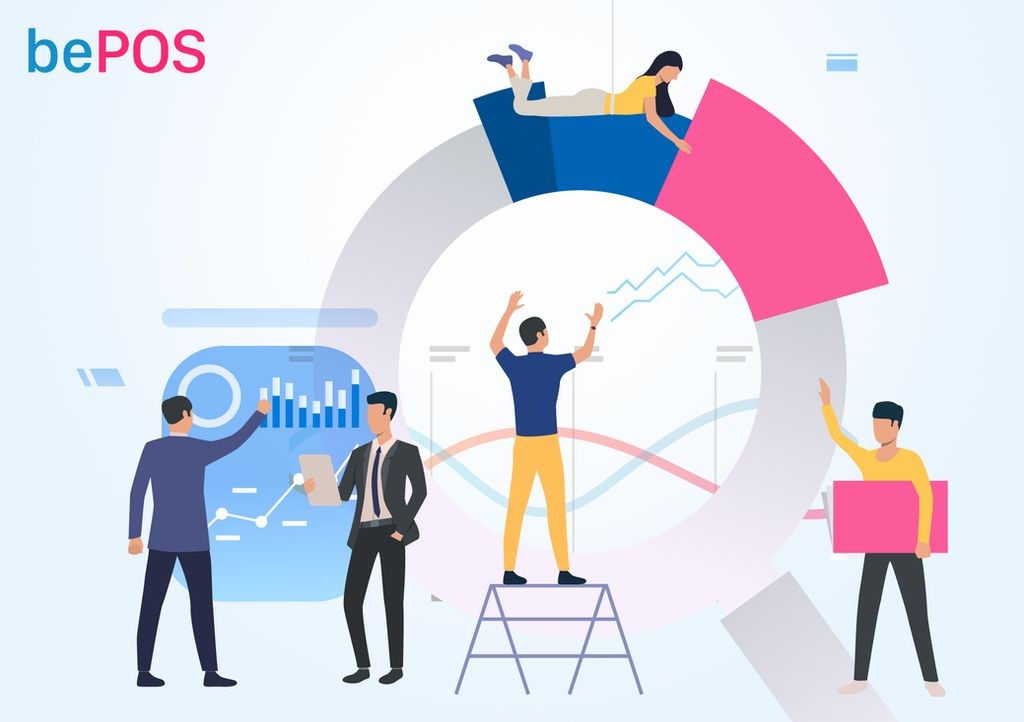 Using the salon booking app is quite popular among business people because they can easily schedule employees' work, they can manage their reservations, inventory, sales, and even more. Salon booking apps come with a function that allows guests to book appointments, meaning you can say goodbye to the stress of managing yourself.
In this following part, you will find a brief comparison of the best salon booking app. This will help you choose the one most suitable for your own business and easily learn about the pricing and features of the app.
1. bePOS
bePOS is currently helping the largest chains in the global market to reduce 30% of costs and 50% of management time, especially in the service industry, which has the most demanding operations. Their salon booking app is marketed for eight months and has more than 3,000 registered stores and customers in 10 countries.
bePOS is available in multiple languages and receive a response from overseas customers as "extremely suitable" for a price equal to 50% of their current solutions.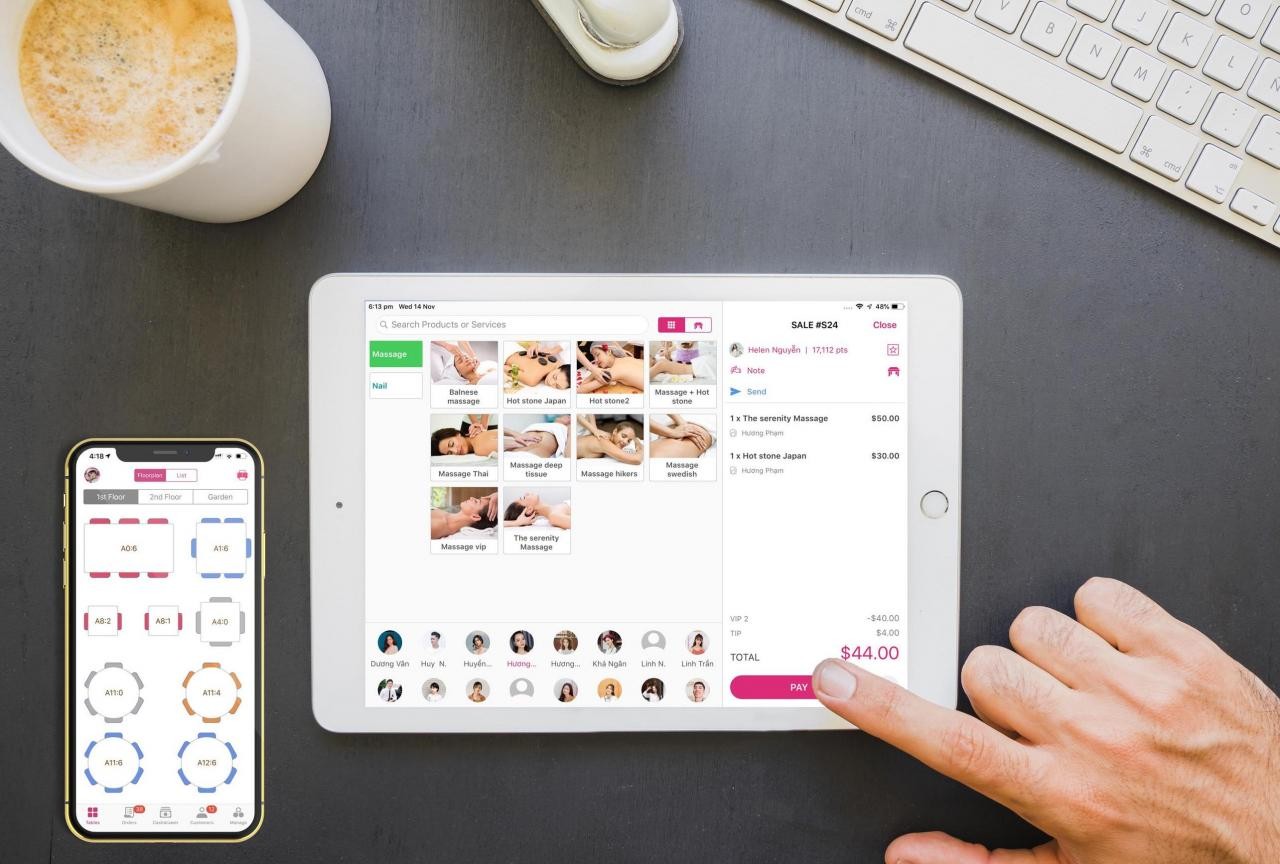 In addition to sales and inventory management, bePOS integrates tools to manage appointments, customer relationships, earn membership points, price/promotion policy, timekeeping, and more. You can access your office activities from any web browser or on your phone even while travelling halfway around the world on vacation.
Besides, bePOS helps you quickly install systems at new branches. You will soon get to grips with the whole system. The hardware that comes with your POS system is flexible, durable, stylish, and affordable. bePOS goes with the best hardware in the world to secure your long term investment.
This is the most updated and highly-recommended salon booking app that you must use for your salon!
2. Booker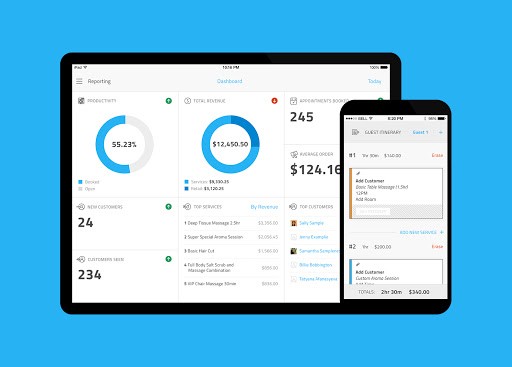 Booker by MINDBODY is a cloud-based booking solution that provides businesses in the cosmetics and wellness industries such as spas and beauty salons, tools to help them manage booking, billing, and payment processes. cooperation with customers and marketing activities. Key features include an integrated scheduler, social reservation, point of sale (POS) integration, email marketing, customer surveys, and more.
Booker features credit card processing, gift certificates, e-commerce capabilities, and can also accept mobile payments from customers. The solution integrates with websites like Yahoo, Bling, Yellow Pages, SuperPages, and more allowing users to advertise their open appointments.
Also, Booker offers customer relationship management (CRM), employee scheduling tools, business intelligence dashboards (BI) and inventory management features, and client programs. intimate goods and reporting tools. Mobile functions for remote access are also provided by the solution. Services offered on a monthly subscription basis include phone support, email, and other online resources.
3. Timely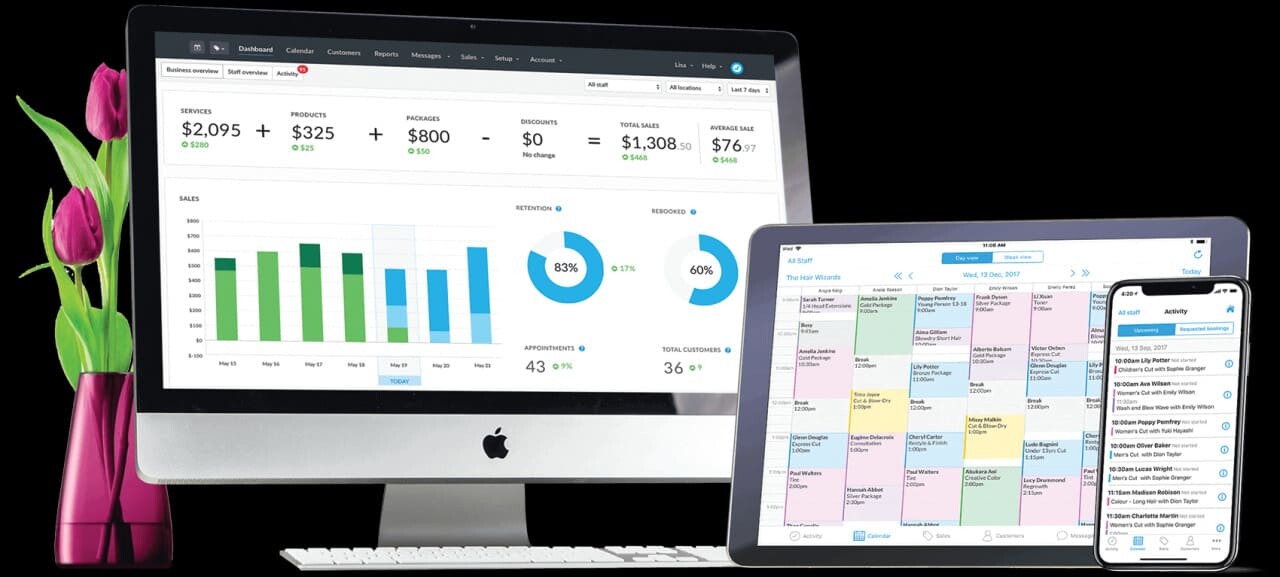 Timely is a cloud-based appointment scheduling solution that caters to individual professionals and small and medium businesses, including beauty salons, hair salons, health clinics, masseurs, and personal trainers.
Users can remotely run their appointments, generate reports, and send notifications and reminders. Features include calendar management, allowing users to pre-book or reschedule appointments, initiate group and class bookings, manage recurring bookings, and add multiple activities to a single booking.
Timely allows customers to book online through links embedded in the website or through Facebook. It offers sales and marketing support and reporting features. The solution also provides automatic SMS and email reminder and secure storage of customer data, including personal details, reservations, emails, sales, and other notes. Timely offers integration with third-party apps like Google Calendar, MailChimp, Xero, ZVend, and MYOB. Timely provision of services on a monthly subscription basis, including phone and email support.
4. Square Appointments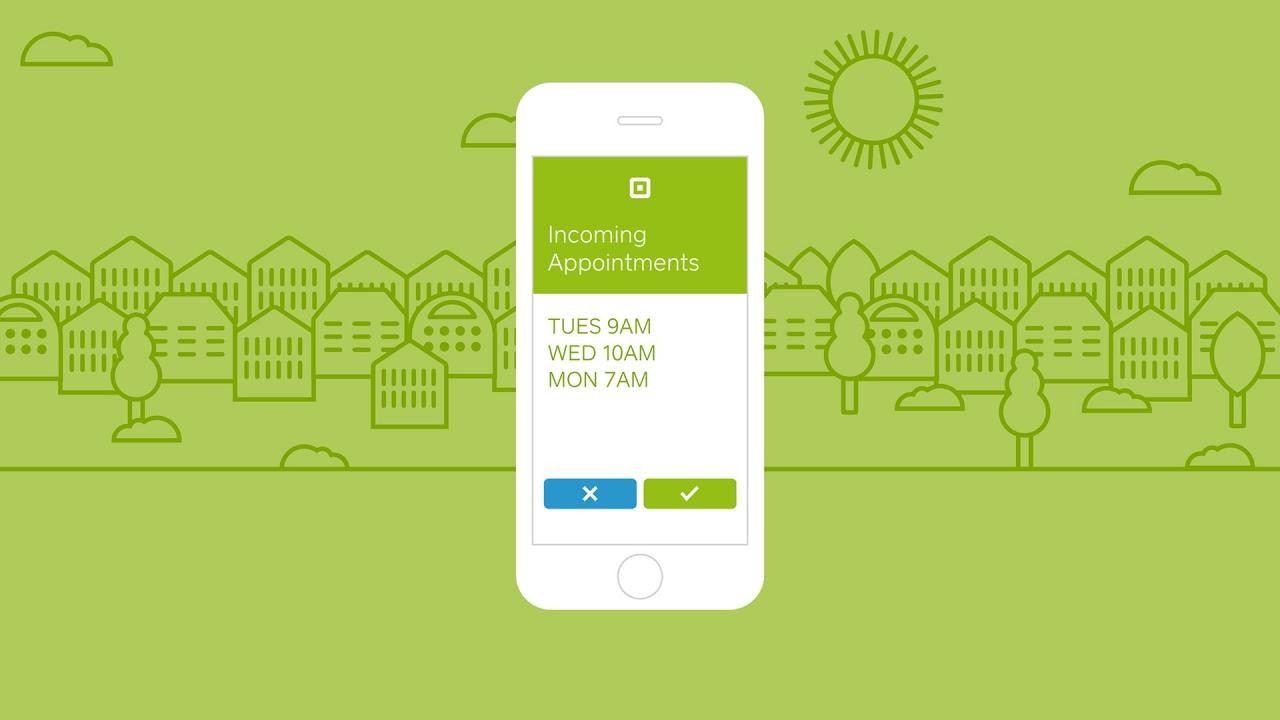 Square Appointments is a cloud-based appointment management solution that allows professionals to manage reservations, appointments, lead generation, and accept payments. The solution suits the needs of retailers of all sizes in many service industries.
Square Appointments allows customers to book appointments on the go for one or more locations. Furthermore, it will enable customers to prepay for scheduled appointments. Users can review their calendars from any mobile device and plan the day accordingly.
It is the solution to send customers automatic notifications of appointment due dates via email or text message. Also, the instructor can take notes while serving clients for future reference. Square Appointments allows customers to pay by credit card.
Square Appointments allows marketers to execute loyalty and promotions for potential and existing customers. The solution integrates with Square Point of Sale, QuickBooks, and Xero.
5. Vagaro
Vagaro is a cloud-based salon, spa, and fitness business management solution that allows professionals to book appointments and manage a facility's various roles. It provides an integrated solution for bookkeeping, payroll management, customer databases, and inventory management, as well as email and text notifications for customers and marketing, email automatically.
Users can list available appointment times, and then customers can search for nearby salon facilities and book an appointment through the Vagaro website or the Vagaro app. VagaroPro, a business app, is available for Android and iOS smartphones.
Users can create customizable promotional websites to showcase upcoming events and special offers through Vagaro's website or connect with their customers via email and media platforms. Besides, they can also create a personal profile with their contact information, booking history, and responses; keep a record of their customer service history; and create customizable reports with graphs and charts to track business performance, customer retention, and more.
6. Schedulicity
Schedulicity is an online appointment booking software intended for small businesses and service professionals. It provides convenient solutions to automate the steps involved when scheduling appointments. The schedule can be used by lawyers, music teachers, orthopaedic doctors, coaches, and many other industries.
Users get unlimited email marketing, SMS messaging, and a host of tools to help manage business operations. Through powerful search, customer database, online calendar, and web-based scheduling, Schedulicity helps to reduce the number of people needed to schedule and schedule appointments.
It has a large clickable graphical user interface that represents different business categories. Also, the solution offers the ability to customize various industry-specific subcategories.
7. Rosy
Floydware's Rosy Salon Software is a cloud-based salon and spa management solution designed for small and medium businesses. It offers customer scheduling, point of sale, inventory management, reporting, and marketing in one suite. The product also helps salon owners cooperate with manufacturers and product distributors.
Rosy Salon software allows users to book salon reservations, manage multiple appointments, access customer histories, and send personalized reminders. The point of sale (POS) feature will enable users to collect payments, cash drawers, and gift cards. This solution offers Facebook integration, allowing users to schedule appointments from the Facebook page.
With Rosy Salon Software, users can access and manage their appointments via their mobile devices. It also offers marketing features, such as automated email and loyalty programs. Users can also prepare different types of reports, such as accounting, payroll, and revenue. The product offers subscription prices and is priced on a per-user basis per month.
8. Simple Salon
Simple Salon is a cloud-based salon management solution for small, medium, and large hair salons and spas. Key features include SMS messaging, online booking management, marketing, accounting, and reporting.
The SMS messaging feature allows users to minimize absenteeism and manage appointments. The online scheduling feature will enable users to receive and book appointments in the appointment book. The marketing feature sends welcome notes, reminders, and promotions to customers. The reporting feature provides a dashboard where users can view salon performance based on key performance metrics. Simple Salon offers integration with Slick, Xero Accounting, Campaign Monitor, SMS Central, MailChimp, Stripe, Pin Payments, and POS99.
It is provided through the subscription price. Android and iOS mobile apps are also available. Support is provided by email and by phone.
9. Genbook
Genbook is an intelligent all-in-one online scheduling solution that helps small business entrepreneurs build a better business experience. Key features include appointment reminders, automated scheduling, online booking and payment, customer database, and calendar synchronization.
Genbook helps users collect feedback from customers after appointments, share these reviews and ratings on social media, and link them to Google Search. Genbook users can also collect payments or deposits online and in-store, and capture credit card details for further processing.
Also, Genbook allows users to send reminders to their customers via email or SMS. The solution also provides mobile apps for iOS and Android devices and supports integration with multiple search sites like Facebook, Bing, Citysearch, Instagram, etc.
10. GlossGenius

GlossGenius allows customers to schedule appointments online using the integrated calendar. It also will enable customers to provide their location details when making an appointment. After creating an appointment, customers will receive automatic notifications with more information such as important contact information and the exact date and time of the meeting.
The analysis and reporting feature helps salon managers create various types of reports, such as purchase reports, appointment reports, income, and sales tax reports. The solution also maintains customer records with information such as customer notes, photos, appointment and purchase history, and more. GlossGenius is priced on a subscription basis per month.
11. StyleSeat
On average, stylists waste more than ten hours a week on a variety of jobs. Imagine how many appointments you can fill with those extra ten hours! StyleSeat does the busy job for you so you can focus on providing excellent and paid services.
With over 100 million pre-booked appointments, StyleSeat provides powerful business tools for barber and beauty salon professionals and provides customers with an easy way to explore and book services like haircuts and makeup online.
Clients can quickly discover and book online beauty & hair salon appointments. Whether they're looking for a new pedicure, eyelash extension, weaving, or new hairstyle, StyleSeat provides a convenient way to browse photos and reviews, get important pricing information and make an appointment right from their expert's calendar. Besides, it can browse photos of hairstyles, colours and find the right Salon for you, never miss a message with helpful appointment reminders, book a recurring appointment with the barber to keep your haircut on schedule.
13. Mindbody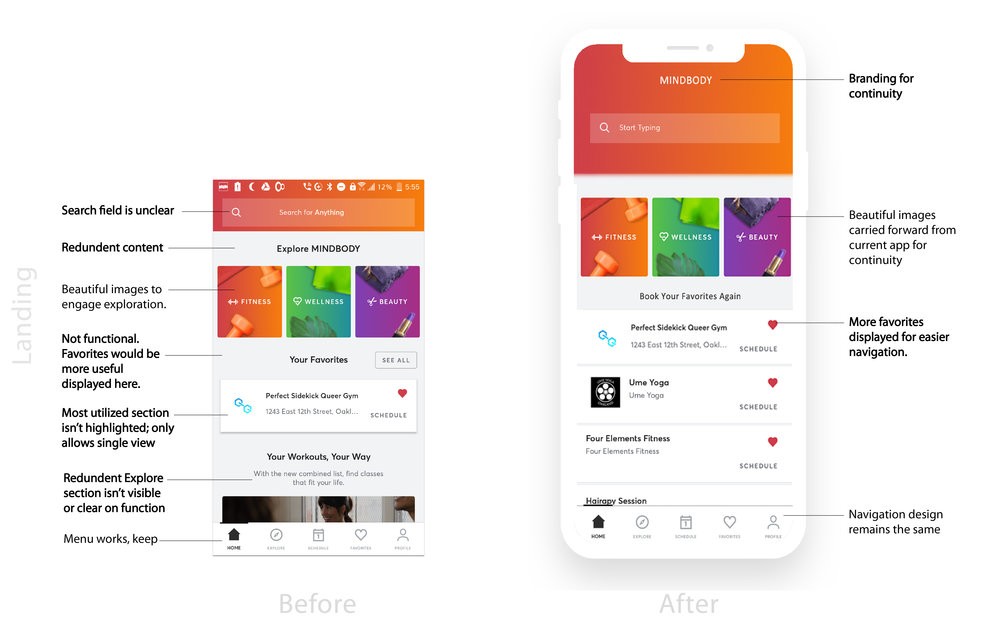 Mindbody is a cloud-based appointment scheduling and club management solution designed for the needs of small and medium businesses. Products are mainly used by gyms, fitness and personal training centres, beauty salons, spas, and massage centres, wellness centres, dance schools, and yoga studios.
Mindbody offers features like scheduling with waiting list management, booking appointments via Facebook, automatic scheduling for email and text messages, and online booking. Membership can also be managed through Mindbody.
Mindbody also has a set of tools for marketing management. With Mindbody, notifications and alerts can be set up for customers, targeted marketing campaigns can be launched, and marketing reports can be created and evaluated.
It offers employee management features, including check-in and check-out management, role-based permissions, payroll management, and calendar integration.
Mindbody provides access to custom APIs that allow third-party developers to integrate their platform with the solution. The product offers a marketplace for applications that can be combined with Mindbody, such as Spafinder Wellness 365, Xero, Perkville, RelateLOOP, Zcubator, and WaiverKing.
14. Meevo 2
Meevo 2 provides everything you need to run and grow your beauty or wellness business. The software's powerful tools, innovative features, and built-in support help you manage and grow your business, let you perform multiple tasks, set and track goals, and provide exceptional customer experience. Its intuitive technology ensures you'll always be synced from your PC or Mac with all available iOS and Android devices wherever you are.
15. ChiDesk
ChiDesk is an online booking and activity management software for spas and beauty salons. A cloud-based platform that allows businesses to manage appointments, record and track sales, manage employees, strengthen customer relationships, schedule classes, and gain a better understanding. of business performance. The platform can also be used by fitness coaches, personal trainers, healthcare professionals, and other customer face professionals in the service industry, to manage reservations and clients.
Designed to work on all web-enabled devices, ChiDesk allows users to manage their spa or salon operations from anywhere and facilitate access to information on the go. Appointment scheduling tools in ChiDesk enable employees to view their upcoming appointments or classes, view attendee details, and track attendance. Businesses can allow their customers to book online appointments by embedding the ChiDesk widget on their business website, and the system facilitates group scheduling, recurring charges, subscriptions, appointment authentication, etc.
16. SimplyBook.me
SimplyBook.me is a cloud-based scheduling solution designed for service businesses across industries. It provides a booking website so users can accept online bookings, collect customer feedback to optimize sales and service performance, and send emails and appointment reminders for both service providers and customers.
This tool allows the user to submit promotions, set up recurring services, link service providers, or select services and customize options for the booking site. Customization includes adding a booking system as an iFrame or adding a booking button to your website or Facebook page.
Customers can access the reservation page from a variety of devices, make reservations, and can cancel their reservations as needed.
Service providers can sync their google calendar or personal outlook calendar with their SimplyBook.me booking calendar. The solution provides a booking utility for Facebook, WordPress, and other CMS systems. Pricing is based on a selected number of bookings and custom features.
17. Acuity Scheduling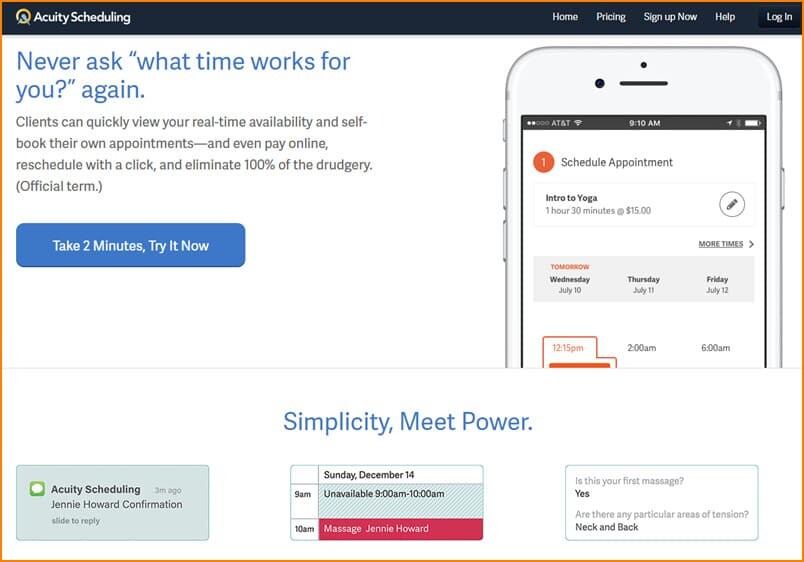 Acuity Scheduling is a web-based appointment scheduling software solution that allows business owners to manage their appointments online. Products cater to the needs of small and medium organizations, as well as individual professionals.
Acuity Scheduling is suitable for service-based businesses such as training and tutoring centres, coaching and consulting, video and photography production companies, fitness studios, beauty salons, and spas and clinics health and dentistry.
This solution allows users to automatically schedule appointments by providing a real-time view of the user's availability. It can automatically sync calendars according to the user's time zone and can send users regular alerts and reminders about their appointments.
Acuity Scheduling also offers features like a customizable enrollment form, an embeddable calendar for a user's website, calendar synchronization with third-party apps, and team scheduling for seminars.
Acuity Scheduling offers subscription-based monthly rates starting with the free basic module plan. The product provides APIs and integrates with third-party applications such as QuickBooks, FreshBooks, MailChimp, Google Analytics, and Word Press, among others.
18. MioSalon
MioSalon is a cloud-based appointment scheduling solution designed for beauty salons and other businesses in the healthcare industry. Key features include SMS alerts, appointment scheduling, point of sale (POS), loyalty management, data analysis, and feedback collection.
MioSalon offers an online portal where customers can view availability and schedule appointments. The solution has an integrated POS that can support mixed, prepaid, and partial payments. Users can send SMS notifications and reminders to customers as well as personalized marketing messages. Customer information, such as contact information, appointment history, sales history, and preferred services, are centralized in the customer database. It is the solution to store all data on a secure cloud server.
MioSalon is available for purchase on a per-monthly basis. The free version is available for businesses with two or fewer employees.
19. Fresha
Fresha, formerly Shedul, is a cloud-based appointment scheduling and enterprise management software solution. It offers booking, calendar management, product management, service management and point of sale (POS) functions in one suite. Products for hairdressers and beauty salons, massage centres, spas and saunas, health clinics, fitness rooms, and coaching industry segments.
Fresha allows customers to book appointments online through a browser app or a mobile app. Fresha also enables users to send automatic reminders or alerts to customers about meetings, events, and offers. The activity dashboard allows users to track daily activities, such as booking dates, notifications, and actions.
Fresha also offers retail management, allowing users to manage POS transactions, invoicing, receipts, and taxes. Other product features include appointment options, appointment history, contact details, and future bookings. The vendor provides online support and knowledge base to customers.
20. Super Salon
SuperSalon is a salon management solution available both in the cloud and as an on-premises system. Key features include sales reports, payroll, and inventory, along with employee placement based on traffic and purchase prediction.
SuperSalon maintains a history of customer purchases so that users can keep track of services and product preferences. Users can also create custom offers and coupons.
SuperSalon offers users the ability to manage customer relationships. Users can send customers marketing messages, create loyalty programs, and allow customers to register online. Mobile apps for iOS and Android devices are available. Services are offered on a monthly subscription basis and include phone and email support.
21. 10to8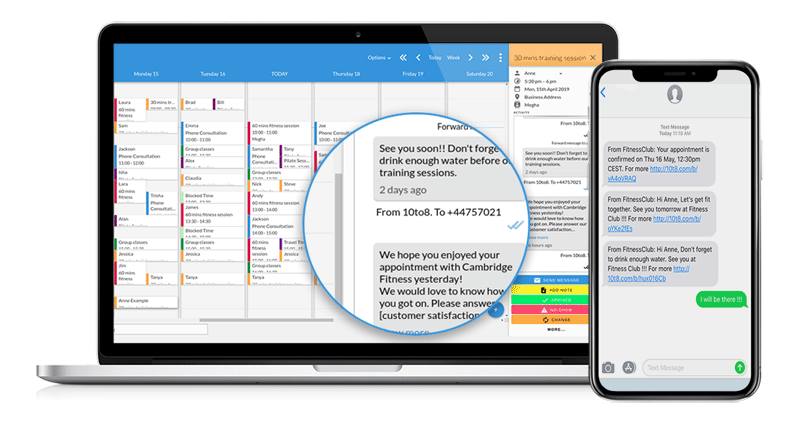 10to8 is a cloud-based booking solution for small to large businesses across all industries. It offers users a custom booking website where customers can schedule appointments, pay for events and services, and access existing bookings.
The customer can schedule, cancel, and reschedule the appointment if necessary. Licenses are automatically synced with the user's calendar, and 10to8 can integrate with Gmail, Outlook, iCal, and more. Users can maintain multiple calendars if needed. Attendees can receive reminders via email and text messages, and users can store notes, questionnaires, and other customer data.
The booking buttons and forms can be embedded into existing websites, and users can also access live chat to chat with customers. The reporting feature allows users to track confirmed appointments, unpaid invoices, and more. 10to8 also offers multilingual support and will enable users to customize their dashboard. Email and phone support are provided, and pricing per user per month.
22. Phorest
Phorest is a salon management software solution designed for small and medium businesses that feature appointment scheduling, point of sale, inventory management, and reporting. The software offers cloud-based deployment and a salon-branded app for mobile phones and tablets.
Phorest has an online booking feature that allows salon staff to manage reservations from the Salon's website and through Facebook. After making an appointment, the appointment is automatically updated in the system to help reduce overbooking.
Phorest has a "Client ReConnect" feature that allows users to email customers based on their booking history automatically. The software also offers a point of sale module that helps users record all of their sales and orders in a single place and maintain a cash register. With the help of the inventory control module, the user gets a notification when the inventory level is low.
23. Revel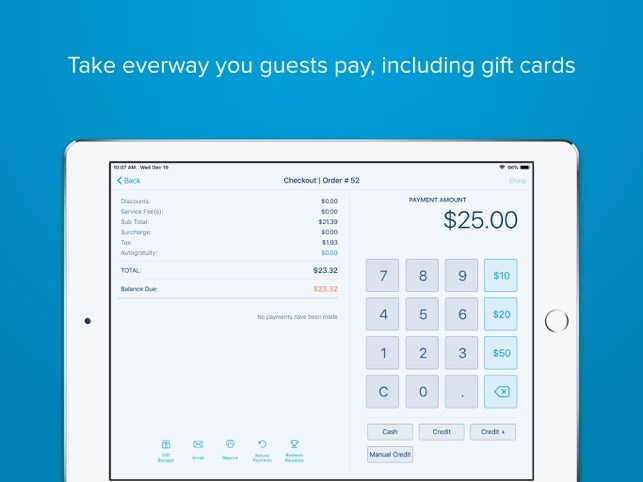 Revel is a cloud-based business platform that integrates customer operations and funnels with the point of sale (POS) functionality in a single dashboard. It is suitable for stores and restaurants of all sizes and provides users with a POS machine, as well as integrated inventory management, customer management, and social media management.
Revel provides data analytics that tracks hourly sales, order history, billing summary, product combinations and sales summaries, and present data in reports and charts. Other features include the management of loyalty programs and gift cards, mobile ordering, and barcode support.
Business owners can control user access with unique user IDs, passwords, and swipe cards. Inventory management tools connect e-commerce and in-store channels to deliver real-time inventory data. CRM features allow users to capture customer data and order history.
Revel provides support through training videos, live chat, and over the phone. Integration with third-party partners like Apple Pay and QuickBooks is also available.
24. Clover POS
Clover POS is an integrated point of sale (POS) system with custom hardware designed for certain types of retailers. This POS system is available in both web-based and server-based deployment versions and offers over-the-counter hardware options, mobile POS options, contactless payments, and more.
With the POS Clover system, businesses can streamline payment processing, sales and inventory management, and more. Clover can replace the outdated processes associated with cash registers, paper receipt printers, label printers, barcode scanners, and other functions. Payment processor supports payments by PIN and chip cards, credit card swipes, Apple Pay transactions, and contactless payments. Besides, the Clover POS program integrates with QuickBooks, includes clock timing to track clock in and out time and manage supplier maintenance and purchase orders.
The hardware components provided include the Clover Countertop Station, the Clover Go card reader, the Clover Mini POS Station, the Clover Flex mobile payment processor, and more. Also, Clover App Market offers various solutions, including gift card branding, marketing promotion, detailed analysis, online store integration, etc.
With the Clover POS dashboard, businesses can visualize key metrics in real-time. Other features include order tracking, menu editing, and data reporting.
25. vCita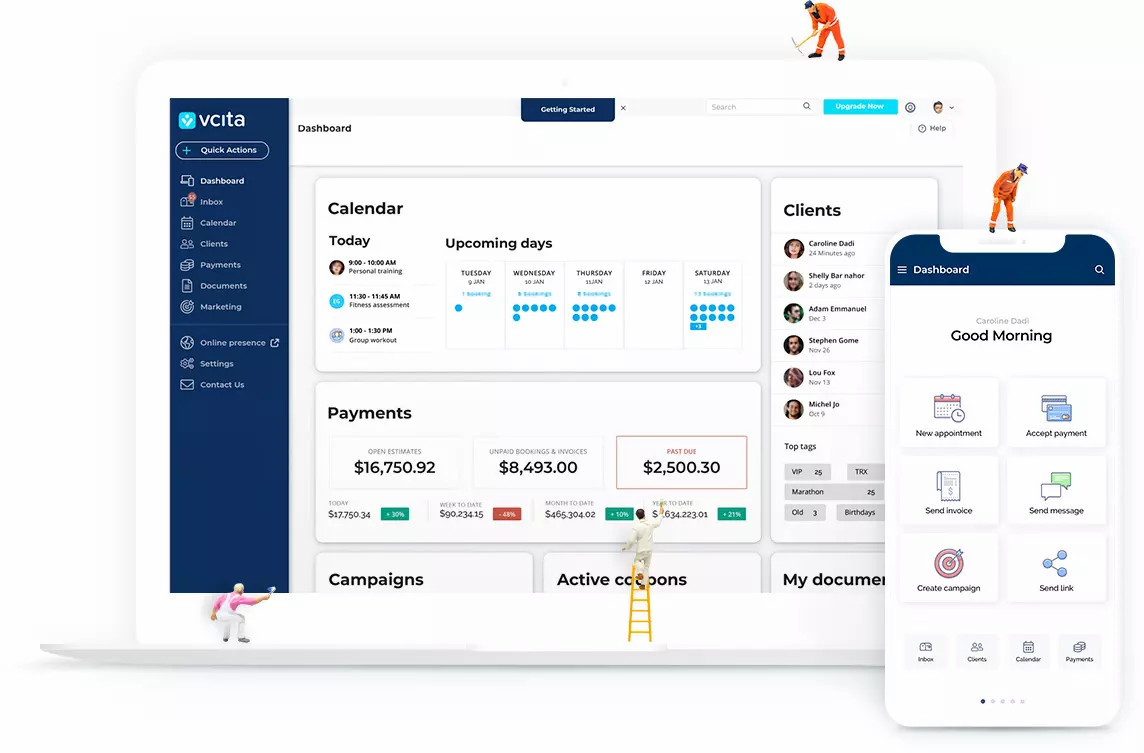 vCita LiveSite is a salon management solution designed for small businesses that offer interactive tracking, lead routing, lead management, and mobile customer relationship management. (CRM) in one set of products.
vCita LiveSite combines different streams of customer communication into a single platform. It integrates with business websites, social media accounts, and email systems, allowing users to share contact information through these channels. When a customer visits a product website or responds to a social media campaign, vCita automatically retrieves that customer details and stores them in the customer database.
vCita LiveSite features a group management feature that allows users to categorize leads and route them to team members based on their availability and skill set. When a lead is created, it will be assigned based on the agent attributes and lead information. Users also receive alerts and notifications related to phone calls, emails, and social media messages.
26. Versum
Versum is a cloud-based salon management solution that helps manage day-to-day operations. It is suitable for businesses of various sizes and can be accessed from internet-enabled devices, including smartphones and tablets.
Versum offers real-time online appointment booking services embedded in salon websites. Along with this feature, users receive an online appointment book, appointment history, appointment reminder, and automatic thank-you message.
Versum's customer relationship management (CRM) module allows users to send automated birthday wishes, run targeted email marketing campaigns, and integrate their accounts with streaming websites, social media and running referrals and loyalty programs. Versum also supports salon management by providing employee schedules, real-time cash audits, statistics and reporting, customer retention rate analysis, and a point of sale module.
Versum is available for purchase on a monthly subscription basis. All users receive setup support, training sessions, and technical support via email and phone.
27. Insight
Insight is a salon and spa management solution that offers online booking, employee management, and automatic notifications in one suite. The product is available both in on-premises and cloud-based deployment options.
Insight allows users to book and confirm online appointments via text message and automated email. The system also enables users to interact with customers by recording customer preferences, tracking purchased products, services, and appointment history, and by rewarding loyalty points.
Insight's marketing tools include automated text messaging and email campaigns, blogs, and newsletters. Users can also track customer birthdays, anniversaries, and referral sources.
Insight also allows users to track sales and employee performance by storing contact and employment details, setting up schedules, and limiting data access with administrative and confidential controls password.
Other features include inventory management, time tracking, payroll management, reporting, online payment processing, and service management. Pricing is a one-time, cloud-based subscription for the on-premises version.
28. Pike13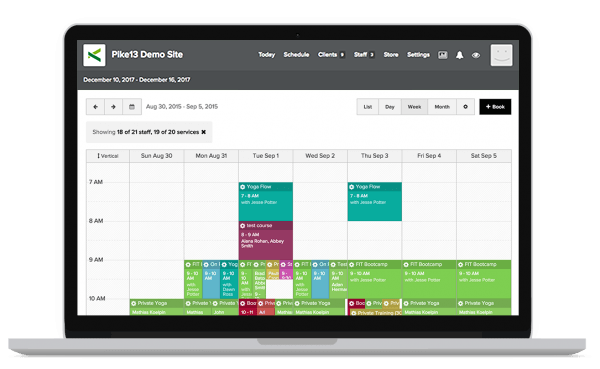 Pike13 is a cloud-based client management and scheduling software solution that targets health and wellness clubs, the gym, music, and dance studios. This solution features scheduling, billing, customer management, reporting functionality, and more.
Pike13 helps users manage online reservations, customer registration, monthly collection, and customer notifications. It supports electronic payments, coupons, discounts, and credits. Payroll management is also provided.
Pike13 provides reporting and analysis functions for detailed analysis and customer trends. Users can add new customer information and manage customer relationships with this tool. Users can add additional notes to the customer profile.
Pike13 is accessible through various devices and is PCI DSS compliant. It also integrates with third-party apps like MailChimp and Emma for email marketing, Smartwaiver for sales and marketing automation, and Google Analytics.
Services offered on a monthly subscription basis include phone support, email, and other online resources.
29. Shortcuts
Shortcuts is a cloud-based software suite that provides modular groups that are configured for barbershops, barbershops, spas, and schools. It fits single locations and large chains and provides tools for appointment scheduling, customer relationship management, marketing, and more. On-premises deployment is also available for Mac and Windows operating systems.
Appointment management tools allow the user to set and view upcoming appointments on a configurable calendar. Clients can make an appointment online using the appointment scheduling module. The booth rental module is useful for exhibitors at events, and customer management tools allow users to record and store customer information.
Loyalty programs, gift card management, email marketing, and reporting tools are also available. Other modules include employee management, inventory management, payroll, commissions, and a point of sale application.
Perpetual license and subscription prices are provided. IOS and Android apps are also available.
30. Zenoti
Zenoti is a cloud-based business solution used by spas, beauty salons, medical spas, yoga, gyms of all sizes. The platform includes appointment scheduling, billing, marketing, inventory, and configurable reports. Mobile applications are also available.
Zenoti provides a suite of front desk and logistics office tools. Users can manage their business in a salon or multiple locations from a single interface. Managers have access to real-time scheduling, revenue forecasts, and alerts. Mobile POS allows employees to book appointments and sell goods with their tablets from anywhere in the store.
The CRM module maintains a single profile for each customer accessible from all locations, which can assist in redeeming membership, packages, and gift cards. The manager can also handle employee scheduling and payroll, inventory management, email marketing campaigns, and special events. Zenoti offers monthly subscription prices and built-in chat support.
31. MyCuts
MyCuts is a cloud-based salon management solution. Key features include appointment scheduling, customer management, and inventory tracking.
Appointment scheduling allows users to manage appointments, search appointments, send texts and email reminders, create recurring charges, and reschedule existing appointments.
The customer management feature allows users to find customers, book appointments, view customer history, collect customer information, and import customers from the phone contact list. Inventory tracking will enable users to search for inventory by name and item status, view inventory level, add/remove stock, and enter the item information.
MyCuts is available through subscription price. Android and iOS mobile apps are also available. Support is provided by email and by phone.
There are plenty of options when it comes to salon booking apps, but you need to choose the one that best suits your salon's needs. We hope you can choose an app that is both functional and well priced for what it offers after reading this article.
If you enjoyed reading this article on choosing the best salon booking app, you should also read the following:
>> Top 8 Highly-Recommended Salon Pos System For 2023