Waiting too long for the salon's turn is frustrating and wastes a lot of your time. Women barely have time to go to the salon after work, housework, taking care of the kids and family. To simplify the usual salon booking for them, they need to have an online salon booking app, so they don't have to waste time waiting for their turn. We've come up with a case study of a great online salon booking app. Through this, you can make your reservation online at the salon. Let's check it out with bePOS!
People can make an appointment with the salon any time that suits them for whatever service they want. Hence, it will be a useful app for both salon owners and customers with online salon booking. While customers can book appointments online, the salon owner will easily manage and schedule appointments. Online booking will also benefit shop owners. Owners don't need to hire someone for this tedious task.
Most couples today are working people who barely have a weekend to go to the salon. Obviously, they don't want to spend time waiting in line for the opportunity to arrive. For professionals who don't have a lot of free time, this online salon scheduling app solves their problems and makes it easy to book salon services appointments. A person will be able to book a salon online while sitting at home with just a few clicks on their phone.
An online salon booking app will act as a platform allowing individuals to book an appointment to the salon, thus saving their time from waiting in the Queue at the stores to visit. Get their desired salon services.
There will be three users in the salon booking app:
Main suppliers
Managers
Customers
Administrators
Problem Statement for the Salon Booking Apps
Salon staff time is being done by scheduling customer call appointments and handling gift card sales. With salon booking software, salon staff doesn't have to manage the reservation manually. The app will manage salon appointments, reports, and billing all in one place. Hence, their time is saved, which they can use to improve the customer experience.
Clients are busy in everyday life, and so they often forget to schedule appointments during office hours. This results in a long wait at the salon for their turn to get the desired salon services. People go to the salon for a barber and other beauty services, but after a long wait, they get frustrated and start visiting the salon after the problem.
Online salon scheduling gives customers the freedom to book salon appointments conveniently without waiting for the salon to open. It solves the problem of waiting in the queue that makes the mood uncomfortable. Timely reservation ensures faster salon service.
We recognized the utility of salon scheduling and how easy it is to make an appointment through it. The project's vision was to build something special for people who are too busy in their professional lives and don't have much time to go to the salon to check for vacancies.
The aim is to simplify salon booking and get the best salon services. Getting salon services is no longer a luxury but a necessity. Using salon services is a good experience, and the vision is to make it even better by eliminating odds that could cause trouble.
10 Benefits Of A Salon Booking App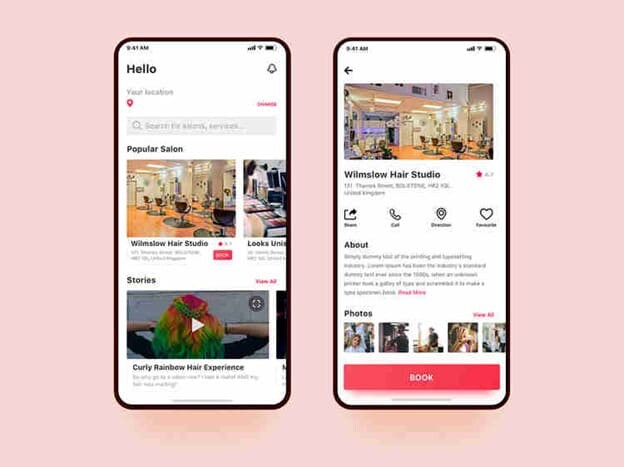 The embargo has been lifted in most cities across the country. So naturally, people are rushing to get salon appointments as soon as possible.
No one wants to look like a commute or general hooligan.
People start cutting their hair when they know that the lock will last until June. Imagine the mistakes the salon owner has to fix right now, just kidding. Well, not really! If you plan to invest in a salon appointment booking app or salon booking software, this is the right time to do it.
We need to minimize physical collisions as much as possible for the time being. Trust us; it will automatically remove the burden on your shoulders.
Lockdown is over, but COVID-19 is still pretty much present in our lives. We need to ensure that we are taking the appropriate precautions, even during busy / peak days at the salon.
In addition to managing appointments and running daily activities smoothly, we now have to ensure that the right social distance guidelines are followed.
The salon booking app will help salon owners digitize their tedious and busy salon appointment booking process. Usually, people visit a salon and perform their services in no time, but most people have to wait a long time for their turn.
The salon business is enjoying success in an urban environment, and if you have the skills needed to create the perfect booking software, you can certainly make a lot of money from it. "Shop near me" or "Shop near me" are searched on Google. It is representative of the individual's current needs.
More and more salons are investing in integrating salon booking systems as well as new salon marketing strategies. However, some owners find an online booking for salons and handling apps a bit difficult.
Certainly, to operate any tool, we need some technical knowledge. My Digi Salon is one such platform where the CMS Tool UI is so simple that anyone can use it.
Setting up an online salon scheduling system isn't too difficult, but we have listed a few features that will help you understand why you need the salon appointment booking app.
Beauty is always rated as the top of all the essential things that need attention. John Keats was right, "Beauty is a joy forever." Today, everyone wants to look beautiful and glamorous, and a beauty salon is the most suitable place. Beauty salon services that enhance your natural beauty and help you look beautiful. When beauty is all over, how do we not consider the administration of beauty salons?
Simple and successful salon management is only possible with the use of the best salon booking software. People around the world are making health treatments a top priority in their daily lives. Appearance is an important aspect of a person's personality, and so people regularly go to the salon to keep their skin fit and maintain their appearance.
No need to follow up on appointment via phone call and e-mail
A customer cannot point to a salon right now. They need to make an appointment in advance so you can arrange it. You can believe that taking calls and answering emails is easy. Let me burst your bubble; it's ineffective and tiring. It is a nightmare to work in a hair salon, and a client calls to schedule an appointment at their desired time and is not available.
To find a time that works for both parties, you need to consider all of your appointments. You also need a full-time person to handle all these calls and emails. Customers expect 24 * 7 service and prompt response.
But if you have a salon appointment booking app, all of these can be easily managed. It allows visitors to check-in and chooses available times and schedule appointments at times they feel best.
Customers can check availability and make reservations at the appropriate time from the salon's applications. This process does not let them wait their turn, but they can visit when they have booked with you. It really transformed their experience and delighted them.
They can cancel or change previous appointments, and that eliminates the idea of ​​a no-show. This choice can be added to the website and social media. It provides all customers with unique login details and does not allow customers to forget the appointment date or time. They can easily access all appointment details from here.
The Salon app eliminates the entire wait for customers to schedule appointments with you. This is one of the best advantages of using the salon booking app. Customers can book a room with your salon according to their benefit from their equipment.
Reduce the frequency of missed appointments
Overlapping, missed appointments, and free time can create a lot of problems for shop owners. The salon owner needs to ensure that you can make the most profit while remaining out of society. Missing an appointment is a loss of revenue that we really can't pay right now.
Employees sitting idle at any time during their business hours have become a big deal. You can reduce these missed appointments by sending push-notifications in the app or SMS to confirm your appointment a few hours in advance.
With the help of My Digi Salon, automating these notifications and reminders will be easier. You can even use them as follow-ups to get ratings, reviews, or sell more of your services, for example. Men usually ask for a haircut every month, while women tend to wait at least 2 months before trimming their hair.
So please segment and then send the announcement. It would help if you linked these messages according to the object distinction properly. All of this can be managed with the best salon appointment booking app for your business.
Online payment
One of the advantages of using salon booking apps is that they allow you to add reliable payment gateways that customers easily check out. However, you can also help them pay according to the payment methods they have available. Just turn it into a seamless process, not a complicated one. The booking app reminds customers of the left payments they have with the salon.
You can ask customers to pay when booking and developing a cash flow system for your salon. With the salon reservation app, you can make a convenient checkout process. They send emails and SMS messages to the customers involved and ask them to pay. Besides this, this quick notification system is essential in communicating to customers about appointments, promotions, offers, daily deals, and more.
Following the COVID-19 principle, you need to promote social detachment and minimize the physical impact. Many people are hesitant to pay via card and cash because they do not want to touch anything.
Integrating online payments with your booking app can make the process a lot more convenient for both hairdressers and guests.
Second, the online payment is made first, so it only guarantees that the customer will definitely arrive for the appointment. To encourage customers to pay online, you can give them a discount during the checkout process.
Provide the client with the appointment details
If your client makes a call appointment, it can be easy for them to forget the details. They may call your salon back to confirm the time.
However, if you develop a salon appointment booking app with an online scheduling feature, customers will receive their own personal dashboard. They will be able to keep track of all past bookings and future appointments in one place.
Customers can forget the date and time they have scheduled the appointment. As a salon owner, you can supply existing customers. The loyalty program is the perfect function to impress customers to keep customers coming to your shop. So take advantage of this and attract as many customers as possible.
Your potential people will love these offers and seek to buy them. A salon app with built-in social media profiles on social media can be a great advantage of using a salon booking app. You can get more incentives with loyalty programs.
Manage employee workloads and schedules
It would help if you kept an eye on stylists' performance annually and monthly for your salon to expand. As an entrepreneur, you must keep only talented stylists at your salon. Therefore, we want to know how they are doing. You can assign tasks and check their performance from any location using the salon booking app. Also, it is important to keep them in your salon. You can encourage them with what they are doing and compliment them with their work. Furthermore, you can ask them to attract new customers and get the same offer.
Sometimes, when a client makes an appointment, they want a specific hairdresser to work for them. However, the hairdresser should be present to provide the service.
Salon booking apps can help you manage employee schedules, keep track of appointments, and idle time from just one place.
An appointment can only be made if a hairdresser or makeup artist is available. When the task is assigned to anyone, they will receive a notification along with the times and other details.
It will automatically be added to their calendar. Therefore, a beauty salon appointment booking software is essential these days.
Save time
There will be fewer phone calls to bother you during your treatment. This is one of the top advantages of using salon booking apps. Also, the number of voicemails required to call back will be less. Refer your customers directly to the online appointment booking application on your website. Besides, you should know how to market your salon app.
Make a great first impression
Have you ever clicked away from a website because it wasn't obvious or confusing? Then imagine what an appointment through a contact form would look like. Customers can schedule an appointment when they view your online availability and receive an instant confirmation email. For sure, they will consider this a great experience. You'll want to leave a positive first impression because scheduling an appointment is the first initial contact a customer has with your salon. This is another kind of advantage of using salon booking apps.
Automatic appointment reminder
This is also another kind of advantage of using salon booking apps. All shop owners are afraid of being absent. These are customers who appeared at the wrong time or date. Furthermore, they may not remember their appointments. You can avoid going away without having to call clients with an automated appointment reminder.
Inventory management
The accountant will ensure that operating with all certain rules and regulations tracks salon business processes and sales for a specific month to determine the total amount of waste.
Inventory management is essential to the business accountability of almost every advanced company. You should be in full control of your store's stock – find out how many of your stores have. The primary goal of governance is to check the use of the salon's resources to employees.
You can guarantee product availability and manage the respective salon's inventory from the report. The salon booking app keeps you up to date with what is requested for refills and product expiration dates. This is another kind of advantage of using salon booking apps.
Point of sale (POS)
POS is more likely to sell and execute transactions in batches. It automatically calculates changes made by the bank as certain transactions take place. The salon booking app has been shown to contribute to protecting the environment to a certain extent, with electronic receipts. This is also another kind of advantage of using salon booking apps.
Customers can pay for the products and services they buy by offering different payment gateways. POS offers the opportunity to sell beauty salon and spa products to every customer.
8 Best Features Your Salon Booking App Should Have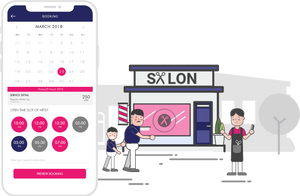 Over time, people became more and more aware of their outward appearance, hairstyle, and overall personality.
In the past, there was a common perception that women were more concerned with their looks, light hair, and skin, but with the changing trends, even men were willing to groom their bodies and be thick. Especially hair care.
Don't forget that teenagers and young people go to special salons because they want a unique hairstyle and most of them follow in the footsteps of celebrities.
We are accustomed to the great impact and optimal response that on-demand applications have received from global customers.
Slowly and gradually, its market has expanded significantly, and most of the popular daily services like taxi booking, online food delivery, repair, plumber, etc. And so hair salon and spa apps could also be included in the same category.
Barbershops are no longer considered trend occupations, and barbers are no longer the ones who just cut short lengths of hair and shave.
On the contrary, it generates good sales, and many people are pursuing their careers to become professional hairstylists. One must note that mobile apps have brought about significant growth in the hair care and spa industries.
So if you are determined to use the beauty salon and spa app, it's important to know what features the app must have to boost your sales and get the best ROI.
Set schedules for customers
You know that the trends have undergone a drastic change. The current situation is that the consumer must make an appointment in advance before going to the salon to take advantage of any services; Similar to what you do before consulting your doctor or business client.
The salon app should have an integrated calendar so that customers can easily book an appointment according to their wishes.
People mainly go to salons and spas on holidays or when they have free time. The shops are mainly crowded in the morning or evening. If a customer makes a reservation in advance, he doesn't have to wait for his turn, which allows him to save a lot of time.
Second, right after making a reservation, the owner will receive a notification via SMS and email. He will know the next appointment and prepare in advance the necessary steps, like in the case of facials and hair spa.
Services Available
Today, modern salons are not limited to haircutting or dyeing, shaving, … but its services have become much more extensive. Even if you're going to have a haircut, there are many different options and styles to choose from.
The hairstylist will cut your hair accordingly. You can also include other services like hair color blending or highlight dyeing, shampooing, etc.
Modern salons also have hair and scalp treatment facilities, eyebrow shaping, trimming beard or mustache, head massage, pedicure, manicure, laser hair removal, hair removal, and more.
Customers can also be informed about the different types of facial massages you are offering. This will make it easier for customers to choose their preferred service. Please also give price details for each service.
Inventory management
Today's salons are well-equipped with several advanced equipments, expensive equipment, and creams used for various purposes. Therefore, it becomes essential to keep track of a list of inventory and items supplied to him.
The owner can check his stock regularly by name, and if anything is missing, he can place an order. Furthermore, this feature will allow him to also add or remove items from his inventory.
He can get detailed information about the products and the prices of each item. You get to know how much you're spending on each item.
Updating your inventory according to market needs and customer preferences is essential.
Customers management
A salon cannot successfully operate on its own. It would help if you recruited a wide range of staff with expertise in a variety of tasks. So if you are hiring, then it becomes important to manage each of their profiles.
All of these can be done easily with the help of the app. You need to enter the employee's name, the salon's date of joining the salon, their area of ​​expertise, and other details like contact number, address, email id, etc.
Also, you can record their payment structure. This will keep you informed about which employees received salaries and how much you paid.
Clients can also decide which staff they want to get hair or facial skin treatment from, depending on their expertise.
In-app payment
Another feature that you can essentially incorporate in your salon app is an in-app payment facility. Customers will pay through payment gateways such as PayPal, Braintree, or Stripe.
You can also include payment via credit or debit card. All you have to do is manage your account and entire transactions by creating the admin panel. You can also ask users to pay via Apple Pay or Google Wallet.
Loyal program
The salon always has several loyal customers who continue to use the service. So now it's your turn to show the same loyalty by offering special deals and discounts. This will bring customers again, and they won't look any other way.
Offers can include QR code scanned coupons, a service tailored to their hair type, offering several free services like a free haircut, free shaving, and more.
Push notifications
One of the best ways to stay connected with your loyal customers is through push notifications.
You can impress your users by sending personalized messages to multiple devices at the same time. You can also submit updates about your services and discounts if available.
Deploying GPS technology
The Global Positioning System is an advanced technology that, if implemented, will be beneficial to your clients as they will be able to track the location of your salon easily.
Also, geo-fence will help to target certain customers and determine their locations. Modern stores are very different from the old traditional stores that we had a decade ago. Salon owners and hair stylists are smart enough to embrace new technology, and this not only brings about a big change in their work culture and brings new hairstyles and treatments that everyone never knew.
However, one of the biggest changes is that these stores have become big-profit companies with great ROI prospects. The additional features needed to build the salon appointment booking application:
Geolocation
Sign up bonus
Push notifications
Customer feedback & rating system
Before and after
Group Membership Profile and Availability
Salon appointment setting
Appointment reminder
Contact us
About us
Branding custom apps
Share apps via social sites
Mobile referral program
Click to Add or Click to Call in the Contacts book.
GPS directions to drive
Collection
Service menu
Appointment reminder on the smartphone
Gift card
News
Technology stacks required to create the Beauty Salon App
Below mentioned are the technologies required to build a Salon Appointment Scheduling App:
Push notifications: FCM and APNS
Powerful programming mandrill: GWT
Databases: MongoDB, Cassandra, HBase, Postgres
Cloud environments: Google and AWS
Verify SMS, Voice as well as Phone: Twilio, Nexmo, or Sinch
Universal operating systems: Debian, Macintosh, Ubuntu, CentOS
Data management: Datastax
Available payment options: Stripe and PayPal
Real-time analysis: Apache Flink, IBM, Spark, Hadoop, BigData, Cisco
Team Structure Needed To Build A Salon Booking App
Depending on the mobile app, you want to develop and hire a professional team with a good salon appointment apps portfolio. The person or team you choose must have the necessary work experience and skill set. If you are new to on-demand app development, instead of risking hard-earned money, get acquainted with the team members you need to develop a salon appointment app for. Here is a list of the technical people you need to stay on track.
Application Developer: Includes Application Developer, i.e., Backside Application Developer, Front Application Developer, Android Application Developer, iOS Application Developer, etc., according to your needs.
Project Manager: Includes an experienced project manager and has a set of management skills.
App Designers: Includes Graphic Designers as well as professional UI / UX designers.
Application tester: Includes a group of skills for detailed evaluation or feedback to continue improvising and quality improvement.
Business Model for Salon Booking App Development
Here are some aspects of the business model that will keep an app ready to generate healthy sales.
Committee
Many brands that market their services online are using mobile apps, including GlamSquad. They guarantee that they earn a certain return rate in the form of a commission whenever a purchase is made.
Sponsorship
This involves generating some revenue by allowing your affiliate partners, i.e., the best service providers, to advertise under the sponsored program.
Advertisement
This involves generating some in-app impression revenue adding other third-party businesses in your app, and making money depending on the number of clicks made.
How Much Does It Cost To Build An Salon Booking App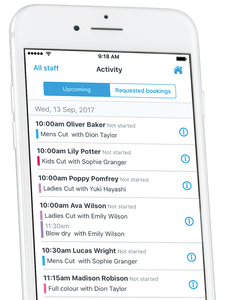 Have you ever observed a change in user behavior regarding the availability of beauty or salon services over the past 3 to 5 years? First, people look for an online service or solution by making a reservation in the salon through the Hair Salon app for beauty services, restaurant table reservations, movie tickets, or even ticket planes.
Such a dramatic change in user behavior patterns has triggered a trend to create a mobile salon app in the beauty industry to advertise hair and skin services. In this publication, we explain the essential characteristics of developing spa and salon applications and the cost of developing spa and salon applications.
Beauty service providers, part of the on-demand niche, are rapidly opting for mobile app solutions to grow their businesses. It doesn't matter if you own a small independent salon or a large salon with multiple branches; having a mobile salon app directly impacts business growth. All major tasks, such as managing beauticians, keeping track of their work profiles, handling several clients simultaneously, and scheduling appointments, are all possible through the app.
Beauty business professionals understand this popular trend towards mobile devices and are now focused on creating mobile apps for spas and beauty salons. The only reason to worry about becoming mobile is the cost of creating a booking app. The prices associated with creating a mobile application depend on many factors: the operating system on which the application will be developed, the complexity of the application, and the features that will be integrated into the hairdressing application.
The cost of building a salon app depends on the features required. With the agile development method, the booking app for iPhone can be created within 6 to 10 weeks, except for additional requirements.
To understand a salon's business, consider an ecosystem that includes three main divisions: salon owners or administrators, beauty staff, and customers. The feature of the booking application is to simplify the work of the people of this ecosystem. Here are some of the essential features of the hairdressing application that customers and admins want:
Depending on how many features you want to include in your mobile app, the cost of creating a booking app will vary significantly. Which platform are you going to develop your application form? Android or iOS? If your audience is a mix of Android and iOS users, consider creating a hybrid app that works across platforms. Another factor that affects development costs is who you reach out to do the job, whether you hire a developer or transfer the project to a trusted application development company.
Hidden Brains is a trusted mobile app development company serving over 39 industries since 2003. Home to the most talented resources, Hidden Brains has helped several companies launch their business to a new level. For the cost of developing a mobile lounge app, consider asking for a free quote. The business development manager will be in touch with you shortly to discuss your requirements and prospects.
As mentioned in the introduction above, the cost to develop a Salon Appointment Appointment is based on the following aspects:
Features of the app, including must-have and advanced features
Platform choice, i.e., iOS or Android or both
Front-end application development
Back-end application development
UI / UX development
Website connection
Estimating the cost of creating an app for your Salon depends on the features or functionality you want to add to it. Costs may increase when adding various advanced features to the application in addition to the features required.
Furthermore, hiring a development team consisting of a programmer, tester, developer, or designer also affects the application's total cost. This depends on the respective countries in which they live or reside and their hourly rates. And so costs can vary greatly. In addition to the above aspects, application platforms raise total application development costs.
This is because using a single platform like Android or iOS will certainly cost you less than developing an app for both Android and iOS. In India, the app development company costs you about $ 10,000 to $ 40,000 to create a Hairdressing App, providing you with a perfect application.
How Long Does It Take To Build A Salon Booking App?
The number 1 factor for success with the salon business has a solid customer base. This is also why many talented hairstylists and nail technicians are afraid to start a salon because they believe they won't build a customer base fast enough.
How long does it take to build a salon booking app? It takes about 12 months to build a profitable customer base at the store and up to 24 months until you have the ideal customer base. However, with the right marketing efforts, you can reduce this time to 4-6 months.
One Way To Run Your Salon Business Smoothly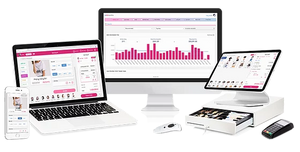 Running a salon requires a lot of technique and patience, and it can sometimes find it difficult to maintain your salon properly.
We are living in a new era where technology can solve almost any problem. Companies must consider high-tech solutions to keep pace with the new world, not excluding stores. One of the most common ways to run a salon is to use the salon system.
Among them, bePOS has been proven by hundreds of salon experts and managers for its remarkable effectiveness in solving salon problems, from booking, inventory to employment through integration, the most advanced 4.0 technologies. Also, bePOS is a cloud-based system so that you can control your shop anywhere, anytime!
bePOS is one of the most favorable POS systems for more than 10 countries around the world. The spa software is integrated with many features to support the management process of spa owners. Moreover, it is connected directly with customers through personal information data, gathering customer feedback. From there, the spa can conduct professional customer care services that meet their needs.
bePOS contains outstanding features of a POS system to support managers:
Booking Management
Cloud-Based
CRM
Report
Inventory Management
Cash Management
​Staff Management
Treatment Management
Download bePOS now for a FREE trial and increase your store's sales by up to 30%!