If you are looking for some new nail designs, then why not try these black nail designs. There are many ways you can get a manicure. Nails are one of the epitomai of fashion. When women think about beauty and design, nail art is part of that. There are many different styles to choose from, and black is always popular. Let's check it out with bePOS right now!
50 Awesome Nails Designs In Black You'll Definitely Love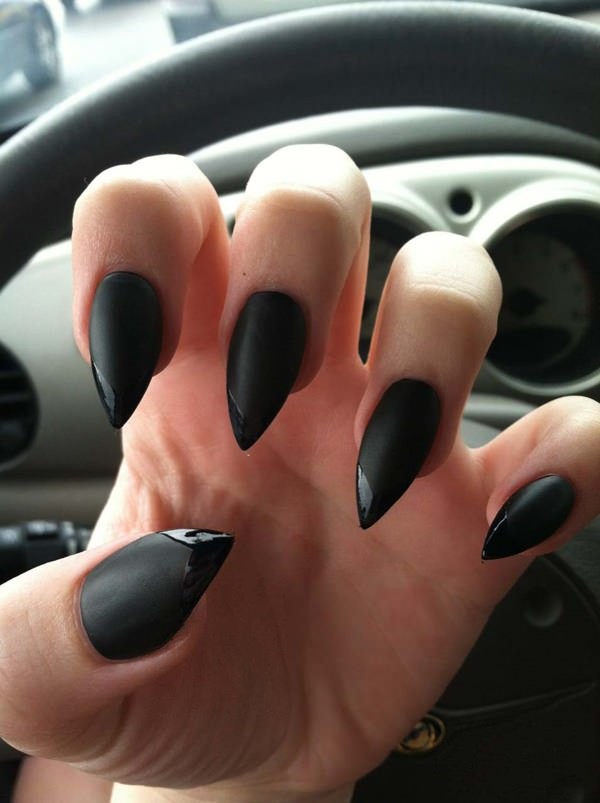 What do you think about the new black nail trend? Black nail designs can be combined with white or even different colours to create amazing designs. It can be a classic and elegant design that can be used for any event. A day at the office or even a luxury event. There are tons of funny black nail designs that you will definitely love. Depending on your own personal style, you can go for a wild look or something a little more conservative. Here are 50 awesome black nail designs you'll definitely love:
Solid

colour
You don't have to have any design on your nails to make them stand out. In this case, she needs to choose a solid black colour and go with it. Simple, yet a nice design that you'll love until you can wear it.
French manicure
These black nails are matte black, and they have a glossy black tip. Sharp nails should give off a completely different style. The top is glossy black, really makes it stand out and the design is stunning. That's one of the things you really want to try.
Love Malibu
The great thing about black nail designs is that having a nail has some art design for it. I love the colours and the Ferris wheel. It's like a little work of art on a few fingers, and the colours are so inspiring. If you want a great summer look, then you will love this one. Blues and gold always look great together.
Sparkle
A great black nail design that has lots of sparkles. This design looks like the night sky. It's a classic design that will always look good. You can wear it anywhere, and it will look great at a special event.
Black shade
If you like a simple design, then you will definitely love this one. It's a classic shiny nail design. A bold look will always be a classic.
Simple moon
A great design comes in matte black and a cute little moon in the corner. I love a small white moon. It's a simple design, but it stands out. It's an extraordinarily glowing white moon that will make anyone happy.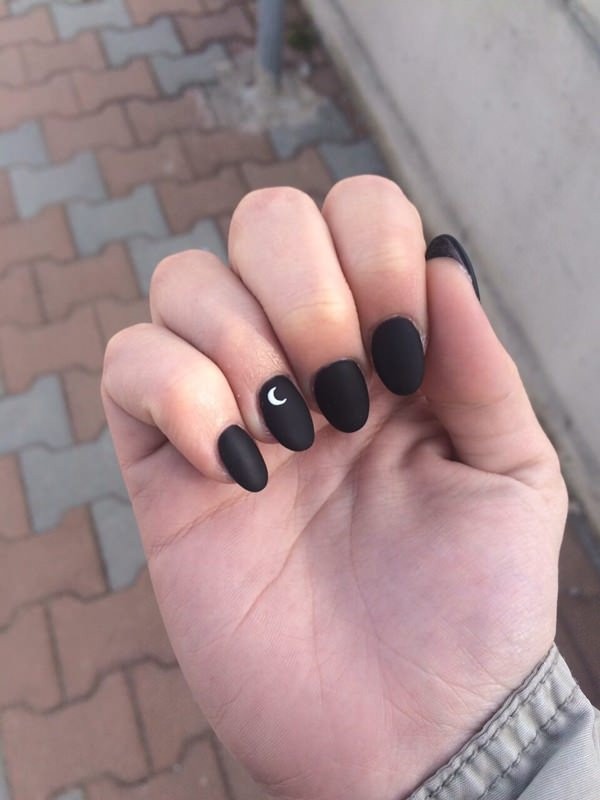 Long nails
If you have long nails, black nail designs could definitely be what you're looking for. A great design that's very simple and beautiful.
Touch of Sparkle
These pointed nails have some real characteristics to them with the added sparkle. The tip of the nail is solid black, while the rest of the nail is sparkling. It's definitely a different look if that's what you're looking for. Gorgeous nails definitely catch the eye.
Neutral
The shiny black nails look great with a few neutral colours. Black with gold stripes makes a standout while neutral tones retain a luxurious look. This will be a great look for the office, one where sophistication and elegance are key.
Long and shiny
Another example of long nail designs is glossy black nails. The grey colour made up of an X definitely gives you a special look. You don't need a lot of highlights if you prefer a simple style. Just have one nail pressed to complete your design.
Goth Designs
These designs may be related to Gothic or Halloween. There was a cross, but also a spider's web. They are definitely bad designs. If you like the badass style, then you will love this style because it's really cool. It's an edgy look and if that's what you're looking for. Just try it!
Zebra style
These are fun designs that feature black and neutral nails and also have fun zebra. Small pointed nails create an elegant style. The designs are extraordinary and classy. If you want a great look for a ladies brunch or a day at the office, this is the look for you.
Round type
This is an unusual design, with a circular design inside the black nail. It's an interesting but very sophisticated look. This is the type of outfit that you can wear to a meeting or the office. It's an elite style that is sure to catch all eyes.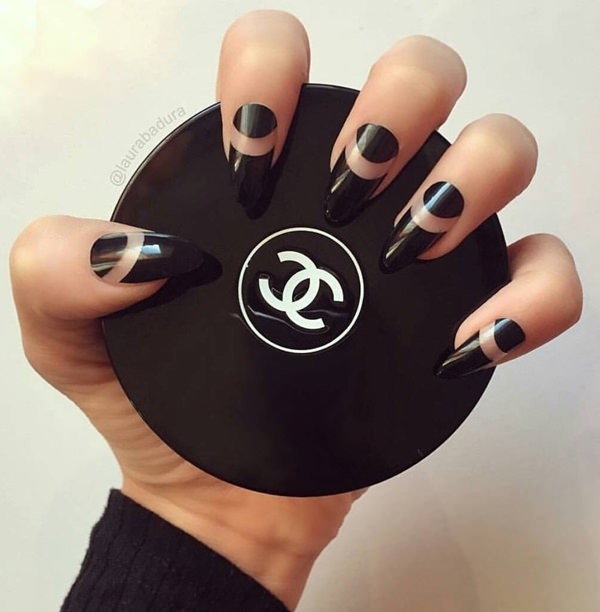 Wiccan
It may be Wiccan or just for entertainment, but these sketches are interesting and unique white pops out of black. I love black and white together; It's an attractive look that will never go out of date.
Pointed nails
If you like sharp nails, then this is the design for you. Matte black with a hint of gloss and this look is perfect.
Pretty black
A great design, simple and can be worn anywhere, whether at work or night. These nails are very long, and they look great with a matte finish. A gorgeous style that will never go out of style.
Love precious stones
A great shiny black that is sure to look good on people wearing a lot of jewellery. These glossy black nails are the latest trend, and we hope that trend never goes away.
Jewelry Designs
Nothing makes black look better than adding a little bling to your style. I love these jewels because they look like artwork.
Outdated French style
A great shiny design has some obvious elements. A great new design is sure to catch the attention of any event.
Short design
A simple design that is not difficult to maintain.
Long design
Now here are some long nails! Some are matte while some are shiny. There are also some design elements on them to make them look really cool.
Square foundation
A great design with matte black shadows. It is a great and unique style.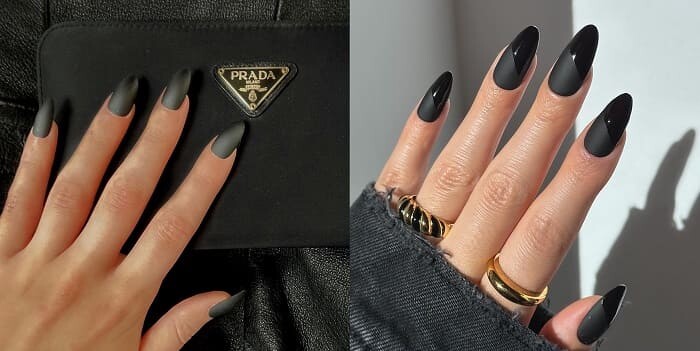 Mixed
Some interesting elements give this design some sparkle along with some neutral bling. A great design that can be worn anywhere.
Sexy lips
I love this great and interesting design. Looking at those golden lips, they are amazing! Lips are the best part of the design because they're fun and sparkle gold and don't forget all the other colours.
Great design
Use the black designs and add a bit of white to open things up.
Jewelry Style
Black nail designs look great with these jewellery pieces. It's a great way to have a unique style.
Silver line
A shiny black design has a glossy silver line on it. It's a classy and elegant design that you'll definitely love.
Fragile jewellery
Speaking of the matte design, there's absolutely no gloss for these nails, which really makes you think you're falling into a black hole. They then added these pewter gems to highlight the entire look. A great design will really catch the eye.
Black Heart
If you love hearts, then you will definitely love them. These pointed nails are unique and have a great design. The heart is just one addition to the design. Just because they are hearts, it doesn't matter that they can't be blacks.
Matte Black
This is a great view for your next event. Imagine a wedding where you can remove socks with this shade. Long nails look great in black.
Black Stripes
This is a classic design with black as the background and gold stripes in different styles. I like it because it's really unique and makes a special style. You can wear this style to the office or a party.
Triangles
Small black nails with some triangles on them. It's a cool theme that you'll definitely love. Some have a lot of dots while others are solid; it's a great overall design.
Dot style
Black and white designs are always classic. These are beautiful designs consisting of dots and stripes. I love the monochrome elements of these nails, and you will love them too.
Sparkling Silver
I love the silver sheen on these glossy black nails. The sparkle really pops out of the nail. It's a nice interface and will look great at your next event.
Black zebra
Talking about a beautiful design. These black zebra designs are not only ugly but also very sexy. If you want an eye-catching design, look no further than these. It is an absolutely amazing design.
A Touch of Sparkle
A deep black that deep in its black. A little bling definitely makes for a great style. Wear it to your next event and get the crowd going.
Sparkling Pink
Many shiny designs look really great. There is the sparkle in many colours as well as diagonal stripes. I love these shiny designs, and so do you.
Brown and Black
Glossy black nails with brown water droplets. There are also black and white stripes that will make the overall stand out. The real gold design will make any look stand out.
Black flowers
Black and white design in which white nails have some exquisite black flowers on them. These are classic elements that really look great when put together.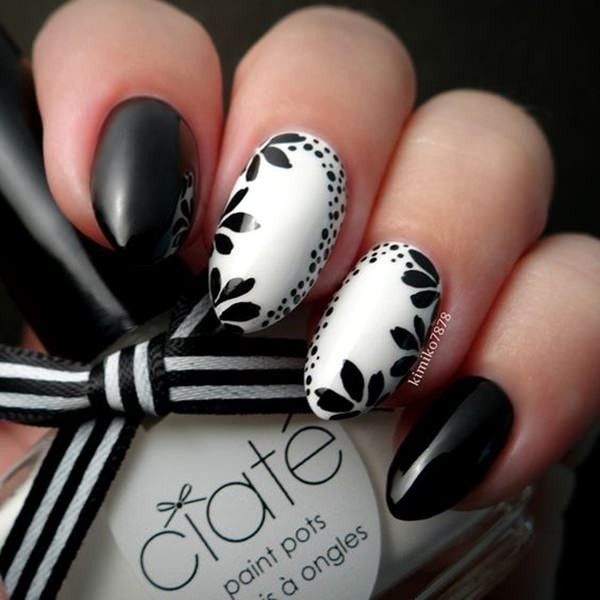 Wispy Branch
Pink and black always work together. These are great designs that you will love as they are super luxurious. I like the soft design that goes well with the pink colour.
Sparkling Silver
There are shiny black nail designs that have silver elements that really make the nails stand out. The silver colour is unique, and it looks like a design.
Solid black nails
A simple plain black colour can be worn anywhere, and you'll want to splash them all summer. They are just cool.
Lots of light
Floral designs are always cool, and this one comes in some nice colours. I love this design because when you only have one nail, it makes the rest of the style stand out.
Solid style
A jet-black design that's great for casual days. It's a great look that can be worn all summer.
Black
A sharp nail plate looks great with a solid black colour scheme. If you like new nail styles that are a bit pointy, you will definitely love it.
​​Black and Square
Another example of a simple design that can be worn anywhere. The black colour is there, and it's shiny, which looks great on square nails.
Deep Black
Another example of how a design can look great even if it's simple.
Shiny Black
The amazing black colour is sure to please anyone. It's a great design to wear to any occasion.
Very Long Nails
Long, glossy black nails are sure to make your day radiant.
Gray and Black
Here's another design you'll love because it's truly unique. Mix the black and grey colours, and you will get a very nice original look.
These designs are awesome, and hopefully, you can find something that appeals to you. Next time you come to the salon, you can get the design of your choice and then have a magical style.
Receiving a salon design can be a relaxing journey, and when you choose an interesting design, you already know that you will be satisfied with the result. We hope that you have found a design that you love. Comment on your favourites!
50 Stunning Black Acrylic Nail Designs To Keep Your Style Standing
When you envision the office style, Friday evenings and Sunday brunch, do you see black acrylic nails? If you cannot imagine how something daring could go in each different style, you will be shocked.
Black acrylic nails are not just gothic styles. They can be bold or minimal, bold or classic, fun, or dramatic. They can go from that board meeting to after-hours drinks at a new rooftop bar while keeping your style different and on point. Black nails are just essential in the "little black dress" wardrobe, and these custom-designed nails are the best nail trends of 2018. If you're a nail addict, Please note.
50 stunning black acrylic nail designs to keep your style standing
Acrylic nails, one of the most popular nail types in the beauty industry, use liquid monomers to bond with nails and provide a strong protective layer to natural nails. Once hardened, colours or artistry is applied to the permanent styling. Women often choose acrylic nails when their nails are brittle or weak. The acrylic helps nail cuticles allows you unique choice seems' sparkle the nail layer from breaking, although prolonged use can damage the nail layer and cause infection. Many people recommend periodic breaks with acrylic nails, but this doesn't mean you can't do some great manicure in the meantime.
Black acrylic nails are one of the boldest nail styles for a woman looking for a surprise nail art. Black acrylics run in colours from extremely minimal tips to sparkling rhinestones and diamonds. They also give you the chance to polish matte and gloss finishes for a simple yet impressive style.
We've got a great list of some of our absolute black nail designs for 2018 to inspire your next trip to the salon. There are 50 perfect nail ideas for any style. Let's take a look at the perfect nail styles for you.
Nail princess gold beaded beautiful designs
Our first nail design was a minimal design with maximum inspiration. Think of a beautiful crown on the head of a princess, but that princess is also a fearsome warrior. These matte black nails with gold highlights are perfect for a bit of an edge but with a hint of royal charm. It was polished to work but lethal on the dance floor.
3D Black Tie Glitter Nails
Glitter is not enough. You want drama and texture. These black acrylic nails use tiny particles to give a 3D shimmer of your all-black design. The light catches the particles and gives visual appeal to another standard sparkle design. Glitter may be beautiful, but 3D glitter is a fun and creative variation you don't often see.
Midnight Garden – interspersed flowers and matte black designs
There is a garden in England dedicated to dead plants. The black acrylic nails take that inspiration and put on beautiful dark nails. Alternate matte black nails with flowing pale flowers to create a mysterious and passionate combination between sweet and dangerous. Certainly, black nails are the perfect foil for flowers.
Slytherin Nails – delicate snakeskin texture
Sometimes you don't need a lot of colours to have a dramatic effect. You can also use matte and glossy polish to create a strong design. These Slytherin nails are perfect for a daring weekend with a pointed tip and a snakeskin effect created by layering shiny "scales" over a matte background. If you can't be good, be good at it.
Art Deco Black and Clear Design
Inspired by the Art Deco heights of jewellery, stained glass and architecture. Using a transparent background layer, layer subtle black lines simulate the stained glass's frills dramatic black edges. It's a homage to modernism and a welcome change from dull, natural nail style. For some nails, only use the black tip. For others, the diagonal lines create an impressive effect that anyone can reproduce at home.
Studio 54 Glitz and Glam
What do you get when you cross black with iridescent silver? Formal with a change. Think Studio 54's spinning disco dresses with the tough side of New York nightlife. Matte black is the perfect foil for the glittering silver. Paint a nail completely or insert a sharp triangle for extra drama.
Haute Couture Runway Glitter
Less glamorous than the designers of Paris Couture. Give your nails the same drama and style with a magical black sparkle. These black acrylic nails do not have a high sheen. Instead, it sparkles with a soft glow like how the stars look in the sky when you're in the love city. Soft with flair.
Black Swan Ballerina Nails
Matte black? Check. Pink ballerina shoes? Check. Can a formal foundation transform minimally into something redundant? Check. Use a soft dusty pink nail colour with a slight shimmer in the nail cuticles to shine to the matte, rounded black nails for a soft shine. That's just how a ballerina manicures if they can have them on stage.
Butterfly effect
This is not your pristine, innocent butterfly. This is the butterfly that flaps its wings and causes a storm of 3000 miles. Oil-glossy golden trapezoidal blocks on a shiny black background create a tough edge, but something beautiful and deadly. Gather tips on a slightly rounded spot for added drama.
All dogs go to heaven
Or at least, paint their portrait on your fingernails. Shiny black nails create an attractive background for a miniature portrait of the man, her beloved dog. Use your ring nails to show your love for your hairy companion while the other highlights the portrait. Reward that unconditional love and smile every time you look down.
French manicure with a serious twist
You know how to do French manicures, right? Is the natural base toned with an equally smooth white background? Tradition has its place, but unless you're the bride at the wedding (or maybe even you), leave that tradition at home and find something more interesting. Use a matte black background with sparkling, high-gloss pink on the square tips to create something fun and captivating.
Pink, black and silver
There is nothing better suited to black than silver. Or is it pink? Why not have both with fun black and silver nails with a cool hint of pink. Use a high gloss black foundation on some nails, a pink base with striking black lines on other nails, and a shiny silver nail. That is the best in all of the worlds.
Yellow toes, round, gilded nails
Remember the movie about Bond? These gold-speckled round nails are as smooth as the world's most famous spy. Use gold flakes for high impact, and if you can get a semi-matte black base with red, it will stand out even more. Drill the edges to a soft spot for added tension.
Premium fashion nails in marble, silver and black
There is a reason why those sleek architecture magazines showcase houses filled with luxurious materials like marble and silver. You can create a similar luxury feel by using black and silver nails with marble and silver highlights. Use a matte black nail design as a foil on some nails, and on others, try different combinations of marble, silver lines, grey, and white.
Queen's Crown
Nail studded items such as rhinestones will elevate smooth black nails into something perfect for a big night out. Paint most of your nails a glossy black colour grey as a compliment, then over your two nails use thick black and grey stripes as the base for these shiny jewels. Use a tapered design towards the end of the nail and keep the nail square.
Roses are red

,

and violets are blue
Black is the perfect complement to red roses and blue violets. It creates an impressive yet feminine design that is less feminine than traditional flowers but still allows you to show off your feminine charm. Simply brushed flowers and leaves against a matte black background create an unexpected floral arrangement.
The oval nail has enough black accents
If you're a fan of mostly minimal designs, this is a great way to start the black nail trend without being overly impressed. It complements your commute outfit, yet still provides enough visual attention for any of your weekend activities. Use a natural, glossy foundation with a black tip and a single sweet dot right in the centre of the epidermis. Keep your nails naturally round for a luxurious finish.
Black and white nails with modern lines
In another modern art movement, these black and white nails are accented by silver lines that follow a geometric pattern on some nails. For that look, paint all of your nails in matte black except for one nail on each hand-painted white. Select some nails to draw geometric lines for the final lines.
Black and white fading geometry
You don't need a lot of art to make a powerful impact. Sometimes, all you need is a simple, monochromatic design on an accent nail. Paint all your nails with a high gloss black paint. On your ring nail, continuously use lighter shades of grey to paint on the geometric design until it turns white at the square nail tip.
Morticia Addams manicure for Valentine's Day
Simple but sweet. This is not your usual set of nails on Valentine's Day. This is the nail of American gothic lover, mistress of darkness, Morticia. On official square tips, paint all of them with a high gloss black base. On the ring nail, apply a simple natural base polish and a black heart over the entire nail. It's a dark Valentine Day with a coffin nail design inspiration.
Long, Matte, Black – Last long nail design
Get a suggestion from the goth, punks and Suicide Girls that reside everywhere. Sometimes the design that has the most impact is the simplest. These highly dramatic matte black nails are all you need to get a bad look right from the Grace Jones lookbook. They are simple, beautiful long acrylic nails. Use longer nails sharpened to squares with a super matte black design to create something that really stands out.
All world is a short stage-nails acrylic black and gold confetti
There is nothing more impressive than gold on black. Use translucent acrylic nails as a foil for larger pieces of golden confetti that drip up from under the nail as if opening a sparkle of night. It's fun, flirtatious, and eye-catching. Keep fingernails short and square to avoid going overboard and keep gold in the front and centre.
Art of red rhinestone inspired by Flamenco
Imagine you are drinking wine in the hills of Spain. The Spanish lute plays a piece of tragic music. Flamenco dancers stepped onto the stage, and their swirling red gowns fascinated the audience. Get inspired by one of the most powerful and creative forms of dance around, while using red and silver rhinestones to create beautiful designs.
Matte acrylic nails with just a hint of gloss – all-black design
Another matte nail design is for minimalists who want an impressive nail design wall of jelly or confetti. To get that look, paint your nails with a matte black primer and then paint a small triangle from the nail base to give the nail a bit of shine. That's great, but at the same time, great.
Sweet Chinese flower doll and black short nail design
Think of the dresses your Chinese dolls used to wear. In some of those formal designs, sweet white flowers are dotted with black satin to create a traditional look. Get this inspiration on your nails by using a matte black foundation to expose the cuticles. On some of the nails in the middle, paint pure white flowers in a dog-wood design.
Modern art style stargazing design
Withcolourcolourfuldemeanour, a homage to chalkboard art everywhere, this romantic design is a refreshing look at something people do with the love of their life. This design uses white outlines to create two confidants looking up at the stars while lying on the grass. The stars stretch on the rest of the nail.
Polka dots with pink and black short nail designs
This design suits those who want short acrylic nails but still want some visual attention. The two fingernails on each hand are painted with a gentle pink base, and gradually large black dots are painted on top in ascending direction towards the tip of the nail. Use a high gloss black nail colour to highlight the cute black dots on the remaining nails on the rest of the nails.
The design of the long black and gold sharpened nails of the Queen of the Nile
These black acrylic nails are not for the faint of heart. These are only for those who are willing to make unique choices and stand out from the crowd. Take a lesson or two from some of the earth's most formidable queens and use the golden confetti to create a bold line design that repeats on top of the nail in matte black paint. Then, file the ends to a point sharp enough to draw blood.
Silver strip against a black background
This is the nail's tuxedo. Simple yet strong silver strips will break down matte and glossy sections to create formal, structured artistic nail designs. It was a small black dress or a matching suit. It was a car that turned around and stopped at a restaurant. It's too luxurious.
Rainbow spectrum brightly divided rainbow
Various bold, striking and striking black nail designs. Sometimes you just need fun nail ideas. Nail designs can also be colourful. On a glossy black background, paint dots in a rainbow spectrum from the bottom up on your middle nail. On the rest of the nails, paint only two of the dots that remain in the rainbow spectrum to give fun and originality to a serious black nail.
Sweet Betty Boop lace and dot design
Betty Boop is known for her sexy yet sweet demeanour. Arouse that energy with a combination of cute lace and polka dots designs. Using a natural pink base, paint some nails with lace designs in glossy black and on others, use grey colour tones to mimic her faucet and paint the polka-dot design on top. It's a cute nail design.
Rose garden with soft roses and black background
It's luxurious but not shabby. The high-gloss black background accentuates feminine roses with soft green leaves on the round acrylic nails. It's both romantic and impressive, perfect for those who want a summer look but don't want the sparkling pink of others—paint roses on different parts of each nail for a more powerful effect.
Black and white scattered nails inspired by Galaxy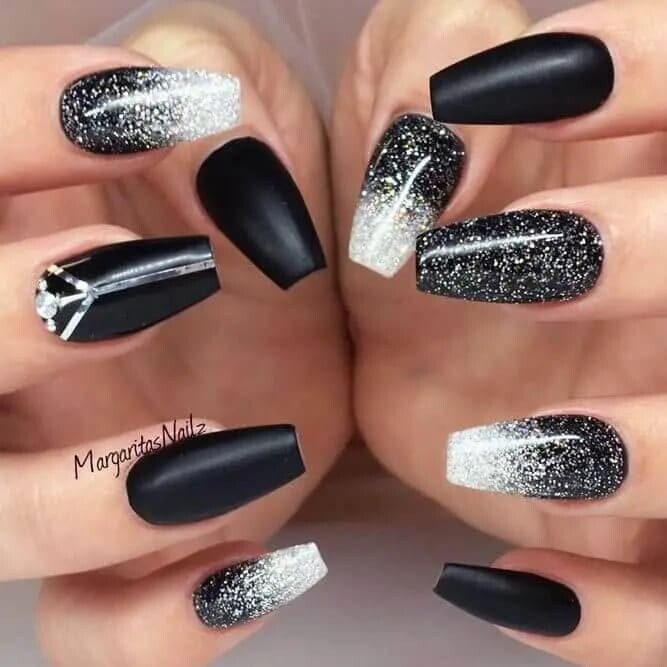 Have you ever seen the stars so clear that constellations are hard to find? You may remember Hubble's pictures of distant galaxies with dense clouds of stars and their steam. The furthest spaces directly inspire these nails and Alternating solid black nails with a white stripe design and a nail with a dramatic silver strip design.
Chevron negative space – cute nail design
Chevron raged for a while. While its lovely look has a bit of a standout, get inspired and accentuate its design using a high gloss black colour and leaving two thin lines unpainted to create a stripe of negative space. . It's subtle. It won't look like the neighbour's grey favourite dining room has the perfect white fence.
Geometric nails studded with multicoloured gems
Less is more sometimes. Create a visual effect with a sparkling nail and small diamonds glued to the ring nail. The rest of the nails are in a minimalistic yet impressive glossy black to bring out the gems' sparkle. It is luxurious to have a decorated nail.
All French black manicures
Give it a French manicure and accentuate it using a monochrome black design that uses glossy and matte paint to recreate the look. The base coat is completely matte while the square nail tip uses a glossy black paint to show the contrast between the foundation and the tip. It's impressive but practical.
Stylish silver black pointed nail design
Extremely pointed fingernails are a trend, and this design only highlights the highlight. It uses a natural cuticle and a high-gloss nail tip separated by a silver strip that mimics the nail tip. It's a good use of contrast that makes your fingers look longer and thinner.
Goth-inspired dot – lacy nail design and coffin hose
For something awe-inspiring, get inspired by gothic shoes of the nineties for different nail designs. These translucent coffin nails use simple black and grey favourite tones to create a bond although each nail is a completely separate design. They have polka dots, swirls, lines, and solid black themes, but they all work well together.
Gold Dust Woman – Black with prominent yellow acrylic nails
The long square nail is back. This is a glossy black with a golden glitter nail on each hand. It looks like haute couture but easy to maintain and perfectly suits every outfit you might have in the wardrobe, formal or otherwise. It's a surprisingly versatile nail art design and never gets boring.
Traditional lace style with black piercings
These are reminiscent of the delicate lace materials bygone era's, but there's no pink or blue here. It's an impressive black design with subtle lace details attached to it. Paint the nails' tipsy with black, and everything looks just right at the right time for dinner or an important board meeting. It is located between both worlds, traditional and modern.
French manicure with black tips – round acrylic nails
This is the minimum design among the designs on the list. If you want to keep up with the black nail art trend, but need to maintain the pinnacle of professionalism, look no further than these simple black nail styles. They use almond acrylic nails and black square heads with natural rounded corners for a professional look.
Autumn Leaves – Leaf design inspired by autumn
Celebrate everything you love about autumn weather. Sweaters, fire, all the coolest festivals, and pumpkins spice everything up. Different nail designs are a great way to celebrate the end of the year and the change of leaves. It pairs well with your favourite sweater and coffee, but wouldn't be too cute because of the black sole.
Blurred and glossy with chevron, stripes and diagonal
Again, glossy and matte paintwork together to create an impressive and visually appealing nail polish idea. This time it's a matte background with designs painted above in high-gloss black. They look like jet-black nails from a distance, but as someone gets closer, the magic reveals an interesting yet clean look.
Old Hollywood charm – sparkling silver and black
This nail art design is Breakfast at Tiffanies on your nails. It uses a glossy black background, but on one nail is accented by a silver sparkle design that expresses glamour, romance, and diamonds with a small black dress. It's perfect for a formal event or if you just want a chic photo in your everyday outfit. It also suits everything from formal to casual.
Sweater tracks: matte, glossy, and a classic sweater design
Just like a small black dress, the perfect sweater is a wardrobe staple. Recreate the vintage look of your nails using a stringed design. It's a textured 3D look that matches some matte nails and some glossy nails. The nails have a long square end for a more powerful impact.
​​Roy Lichtenstein – classic white dot design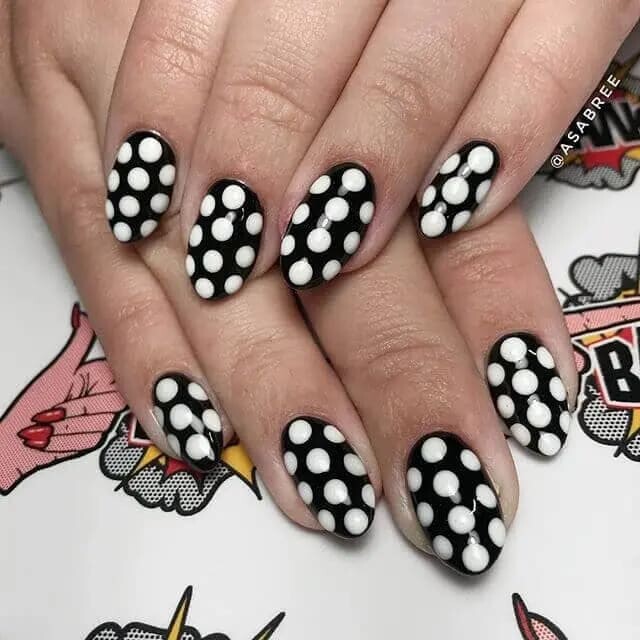 In comics, dots are used to create specific types of illustrations. In this nail polish idea, the nail also receives the same bold treatment with white dots on a black background. They're a bold but graphically interesting alternative to more serious designs. It's fun, sassy, ​​and a little reckless. Who said black nail art should be so serious?
Bright tropical flower art inspired by oval nails
Spring is bursting with colour, and just because you're following the black nail art trend that doesn't mean you can't put some of the brightest colours into your style. These black acrylic nails use matte nail colours to create an elegant picture, a bright spring colour against a dramatic black background. Spring was coming.
Stained glass inspired by monochrome nails
A high-gloss black background becomes beautiful when combined with a matte design that mimics how stained glass shines. But that's not the only thing that stands out. A nail with reverse accents with a smooth foundation and a bold, glossy black design includes flower patterns in a stained-glass vignette. Though it's no other colour, the geometric and floral motifs definitely stand out.
Queen of Hearts spiked nails with a heart design
Remember how the Queen of hearts was formidable? She wants her roses in a certain way and won't rest until she gets what she wants. These nails are a bold, sharp choice, using black and natural colours to create a strong style. Natural contrasting background for the heart design and the extreme black tips. Strong and fun black coffin nails.
Fleur de Lis is inspired by natural pink and black textured art
The texture brings visual enjoyment and ensures your nails won't look like anyone else's. The French royal court's designs inspire this nail pattern with the design of a beautiful swooping flower. The designs provide texture with a slight sparkle on top of black nails that fade into glossy, almond acrylic nails.
Black acrylic nails are versatile, striking, and most of all, interesting. Even if you don't think you can keep up with the trend, there's a design for every style from meeting rooms to dance floors. Regardless of everything fashion tells you, black is the new black, and there are black nails for you. Start with this popular trend in a way that suits your personal style, whether it's a designer nail or something simple and no one else will have black acrylic nails like yours.
What is your favourite nail design, and are you a manicure addict? Are you the minimum or the max in your nail art? Let us know in the comments below.
bePOS – Spa & Salon Management Software Highly Recommended To Use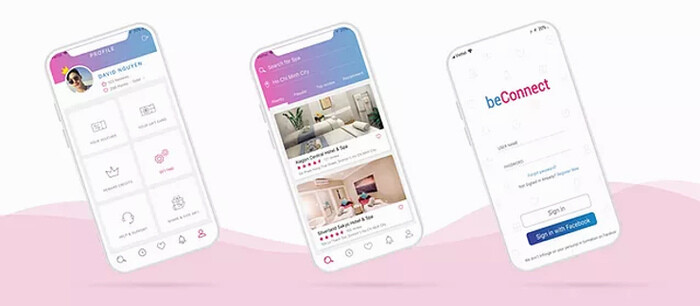 bePOS is one of the most favourable POS systems for more than 10 countries around the world. The spa & salon software is integrated with many features to support the management process of spa owners. Moreover, it is connected directly with customers through personal information data, gathering customer feedback. From there, the salon can conduct professional customer care services that meet their needs.      bePOS contains outstanding features of a POS system to support managers:
Booking Management

Cloud-Based

CRM

Report

Inventory Management

Cash Management

​Staff Management

Treatment Management
Spa & salon management software is designed to automate the spa business and beauty parlour's day-to-day activities. It enables the spa managers to run their business, manage their daily schedule, appointment booking, staff, and inventory with just a button click. These functions help the salon owners save their time and save their money in the operation process.    
Let's bePOS become your best assistant right now!